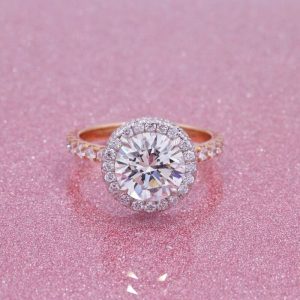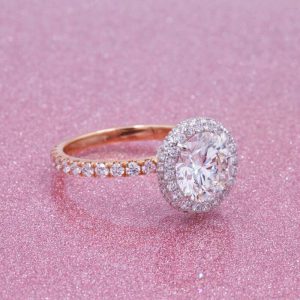 ROUND BRILLIANT
WITH A HALO
BAND
Two Toned | Rose Gold & White

STYLE
Pavé

PRECIOUS STONE SHAPE
Round Brilliant Diamond
A ROUND BRILLIANT CUT DIAMOND IS ONE OF THE MOST POPULAR ENGAGEMENT RING STONES. WHEN SURROUNDED A GORGEOUS HALO, IT CREATES AN EVEN MORE LUXURIOUS AND EYE CATCHING PIECE. IF YOU ARE LOOKING FOR A STATEMENT RING, CONSIDERING A HALO IS A MUST!
HERE AT FINER JEWELRY, WE BEGIN YOUR RING DESIGN BASED OFF YOUR DREAMS AND PRICE RANGE AND MAKE YOUR ENGAGEMENT RING DREAM A REALITY.
WE HOPE THIS GALLERY WILL GIVE YOU INSPIRATION TO BUILD YOUR DREAM RING WITH US AT FINER JEWELRY.
CONTACT US TODAY TO GET IN TOUCH WITH OUR SPECIALIST IN SCOTTSDALE, HOUSTON, AND DALLAS.