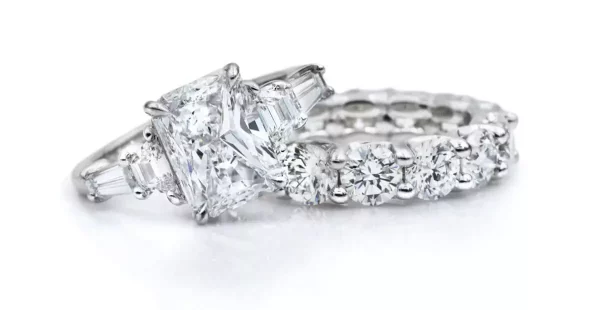 Finer Custom jewelry is a unique custom design jewelry experience centered on the peace of mind and satisfaction of the clients we serve. From even before your proposal to decades into a marriage, we aim to enhance all of your most treasured life moments.
Our artisan jewelers meet with each client one-on-one and walk through the customization process in its entirety, from concept to delivery.
As the top custom diamond jewelers in Scottsdale, AZ, Finer Custom Jewelry affords the opportunity to gift or receive a piece of jewelry that contains just as much thought, time, and love as the relationship it represents.
If you're looking for our e-commerce inventory, please read this for an explanation of why we've temporarily removed them.
If you are interested in browsing our Lab Grown, Natural or Salt and Pepper diamond selection, you can find them here. Our inventory is updated hourly, so please check back often if you're looking for something specific.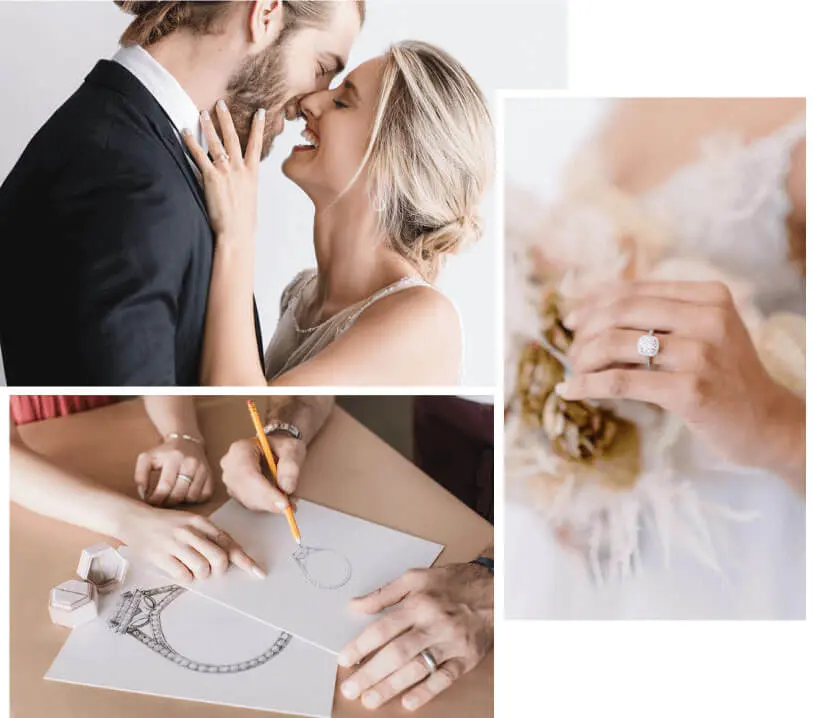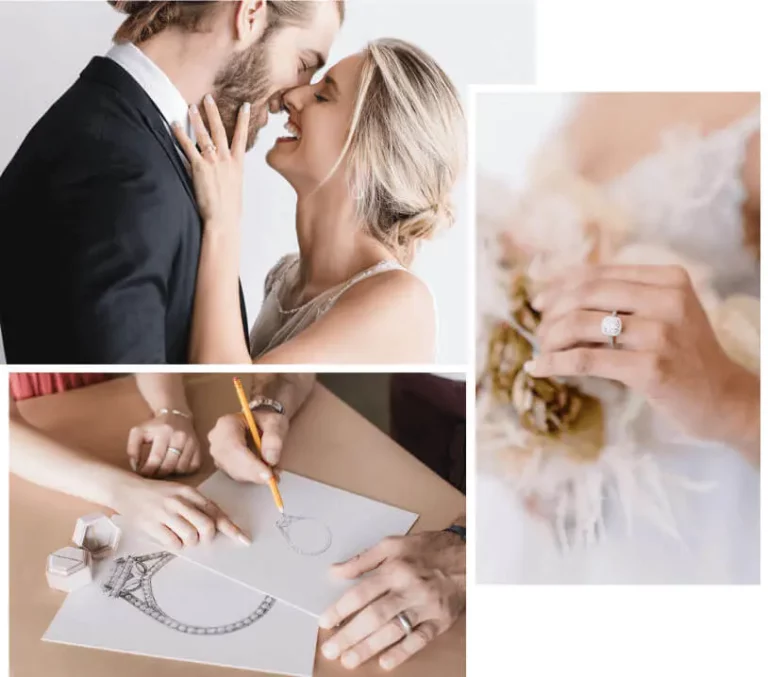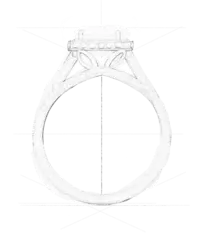 Fine Custom Jewelry and Design
Your first consultation at Finer Jewelry will be an introduction to each other's worlds.
We want to hear about your ideas and unique story while showing you how our design experts can make it come to life!

We have experts in Scottsdale AZ, Houston TX and Dallas TX ready to start your Fine Custom Jewelry and Design journey today!
Finest Selection of Diamonds and Gems
Our experts will provide you with the knowledge you need to make the best stone choice for idea and budget.
Between this meeting and the one after it, our design team will create a virtual mock-up, keeping you in the loop the whole way through.
Attention To Detail and Patience
We take the design and create a wax model, the exact mold used to cast your custom jewelry piece
so you can see how all the details will come together. Once you have approved the cast design, the ring moves onto its final production!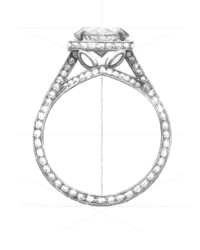 Confident In Your Satisfaction
This is our favorite visit, Reveal Day!
Your jewelry will be packaged in a luxurious box and ready for gifting.
Custom Diamond Jewelers in Scottsdale, AZ
Why People Love Finer Custom Jewelry
Anissa Garcia
June 14, 2022.
My dad surprised me with this beautiful ring from Finer Jewelry for my birthday!! I am obsessed with this ring!!! Thank you Shimon for such a beautiful piece and for such a pleasant experience for my father and I!
Michaela Lopez
June 10, 2022.
My boyfriend of 5+ years surprised me with this gorgeous blue sapphire diamond ring and I'm in loooove! I couldn't be more happy
Dania Kassab
June 9, 2022.
I've been looking for a yellow diamond ring for a while now and I'm so glad I foundation Finer Jewelry!!! Shimon showed me a variety of diamonds and made sure I was in love with the specific stone and shade of the diamond. Shimon made sure to educate me on my purchase which I really appreciated because I honestly didn't know much about diamonds before meeting with him. I could not be more obsessed with this ring, so thank you so much Shimon for helping me find my dream ring!!!
We were originally dealing with a jeweler in California regarding our custom made wedding ring remotely. We became uneasy with the jeweler and lost trust in the jeweler and the process. We decided to find a jeweler locally and discovered Shimon at Finer Custom Jewelry in Scottsdale, AZ. At first we were apprehensive and uneasy picking a diamond and designing our ring with Shimon based on our previous experience. We also thought purchasing a ring from a jeweler in Scotsdale would be very expensive. We could not be happier with our wedding ring, Shimon and the entire process of designing our ring. We met with Shimon numerous times to choose our center diamond and design our ring. Shimon was absolutely wonderful to deal with on all levels. He was extremely patient, warm, understanding, listened to our wants, needs and budget. He was honest, knowledgeable and offered excellent customer service. We're very fussy clients and he did not disappoint us. Our wedding ring is everything we asked for and more... We love it! We've had numerous compliments. It is absolutely stunning, thanks to Shimon! Shimon helped us to trust in the process of purchasing and designing a ring with Finer Custom Jewelry. We also had Shimon size 2 of my rings that I have never trusted with any other jeweler over the years. Jim is my dream come true! Shimon made our dream wedding ring come true! Thank you Shimon for everything. It's been an absolute pleasure. We'd highly recommend Shimon & Finer Custom Jewelry for all of your jewelry needs. We pray and wish you all of the very best in life, happiness, love & abundant success! Thank you💖, Shauna & Jim K.
Yossi Ben Adato
May 19, 2022.
Very knowledgeable and great customer service
Sydney Arthur
May 18, 2022.
The only place I will come to for custom jewelry. Shimon is incredible and made sure I got exactly what I wanted in an engagement ring and a wedding band. It is so special to have something that was customized for me! I highly recommend you check Shimon out for any jewelry needs. You will not be disappointed!
Casey Mahoney
April 15, 2022.
I met with Shimon three times prior to him 3D printing a mold of the ring to be made. He was extremely helpful and did not take advantage of my novice level of diamond knowledge. He walked me through all the ways a diamond is "graded" and described while also keeping me from doing silly things like thinking a triangle diamond was good for an engagement ring. Best of all, the diamond he sourced/found for the ring is awesome!
The Nook Collection Ananti
April 13, 2022.
I will only use Finer Custom Jewelry moving forward. Shimon and his team were kind, patient and professional. The recommendations they made led us to a more informed decision resulting in a much better custom ring than I had in mind to begin with. I would highly recommend them.
Samantha Haines
March 17, 2022.
I had such a great experience with Shimon! I inherited three diamonds from my grandmother's wedding ring and he designed the perfect setting! We added some tapered baguettes to make it a ring that I will enjoy wearing everyday. He was a pleasure to work with and kept me updated each step of the process!
Deanna Marie Zoz
February 10, 2022.
Amazing experience. My favorite diamond jeweler in Scottsdale. A custom experience, fair prices, honest, top quality. What more can I say!
The reviews speak for themselves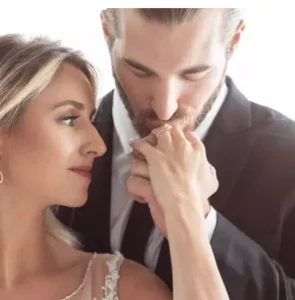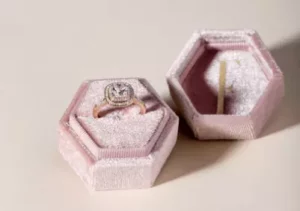 "The team at finer listened and understood exactly what I was looking for. They were Honest, Transparent, And made me Confident in my Choices."
BAND :
ROSE GOLD
STYLE :
HALO
PRECIOUS STONE SHAPE :
LAB CREATED BRILLIANT DIAMOND
WHERE HE PROPOSED :
TOP OF CAMELBACK MOUNTAIN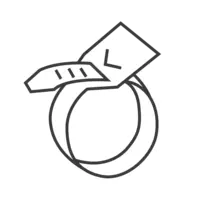 Download Your Free Ring Sizer !
Easy way to find out yours or your partner's finger size.
Download yours for free today to start the Finer Custom Jewelry Design process.