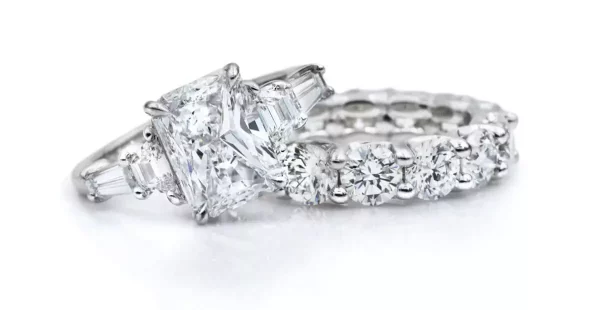 Finer Custom jewelry is a unique custom design jewelry experience centered on the peace of mind and satisfaction of the clients we serve. From even before your proposal to decades into a marriage, we aim to enhance all of your most treasured life moments.
Our artisan jewelers meet with each client one-on-one and walk through the customization process in its entirety, from concept to delivery.
As the top custom diamond jewelers in Scottsdale, AZ, Finer Custom Jewelry affords the opportunity to gift or receive a piece of jewelry that contains just as much thought, time, and love as the relationship it represents.
If you're looking for our e-commerce inventory, please read this for an explanation of why we've temporarily removed them.
If you are interested in browsing our Lab Grown, Natural or Salt and Pepper diamond selection, you can find them here. Our inventory is updated hourly, so please check back often if you're looking for something specific.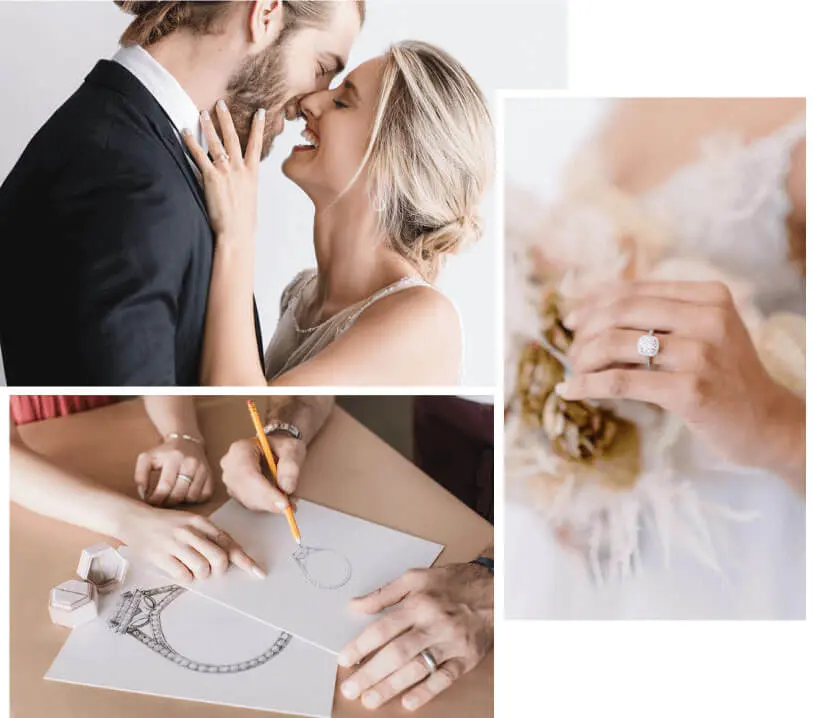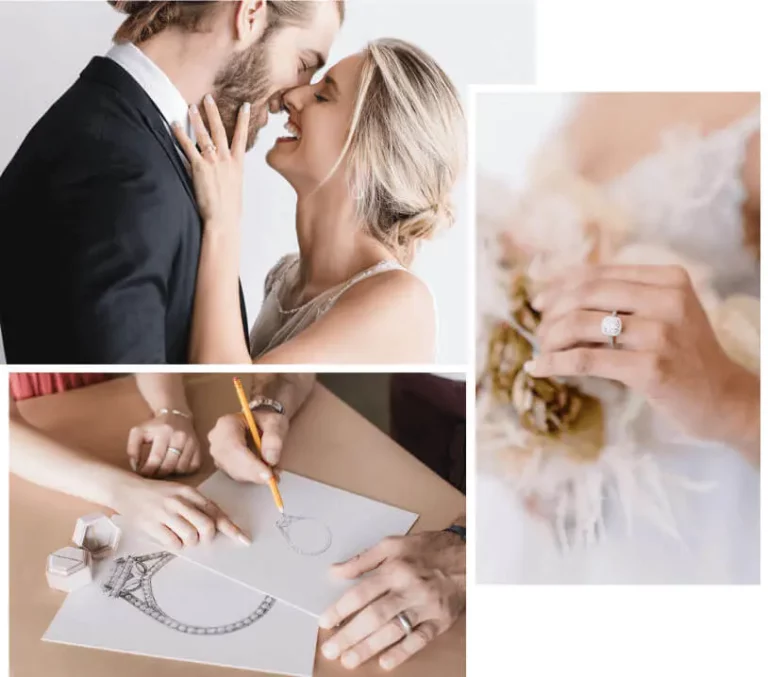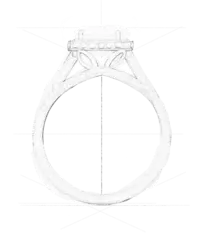 Fine Custom Jewelry and Design
Your first consultation at Finer Jewelry will be an introduction to each other's worlds.
We want to hear about your ideas and unique story while showing you how our design experts can make it come to life!

We have experts in Scottsdale AZ, Houston TX and Dallas TX ready to start your Fine Custom Jewelry and Design journey today!
Finest Selection of Diamonds and Gems
Our experts will provide you with the knowledge you need to make the best stone choice for idea and budget.
Between this meeting and the one after it, our design team will create a virtual mock-up, keeping you in the loop the whole way through.
Attention To Detail and Patience
We take the design and create a wax model, the exact mold used to cast your custom jewelry piece
so you can see how all the details will come together. Once you have approved the cast design, the ring moves onto its final production!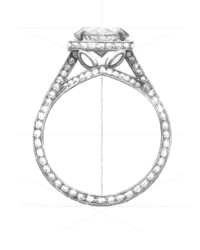 Confident In Your Satisfaction
This is our favorite visit, Reveal Day!
Your jewelry will be packaged in a luxurious box and ready for gifting.
Why People Love Finer Custom Jewelry
Annette O'Hearn
December 21, 2022.
Absolutely phenomenal customer service! I contacted Shimon Himovich, owner of FinerJewery., to cut my custom wedding ring off of my finger due to a forthcoming MRI. Unlike the others that I called, he read the desperation in my voice and rearranged his entire schedule to accommodate me. It was clear from our conversation about the sizing/redesign of my ring that he is a talented artisan as well. I will be looking no further than Finer Jewelry for my future jewelry needs. I encourage you to stop in Shimon's store and see for yourself. I am confident you will be as impressed as I am.
Lisa Na
December 7, 2022.
I highly recommend Finer Jewelry! The owner Shimon is a very knowledgeable and trustworthy person. My experience was absolutely wonderful. This is a place to go for any jewlery needs!
Amy Burghouwt
October 15, 2022.
Shimon is simply the best! He's extremely knowledgeable about diamonds and so passionate about making your dreams come true!! He makes the shopping process fun and enjoyable. I highly recommend going to him.
Hailey Duncan
October 4, 2022.
Shimon was great to work with. The process was easy and the ring turned out beautifully and exactly as I wanted. Thank you, Shimon!
Emily Sauls
October 4, 2022.
My boyfriend got me these earrings from here for our anniversary and I love them so much. They are so beautiful and very high quality. Highly recommend!
Talia Talia
August 30, 2022.
Best collection and costumer service in town! Thank you for patient 🙏
Robert Hulbert
August 23, 2022.
My experience at Finer Custom Jewelry was fantastic. Shimon did a great job educating me on the entire engagement ring process. He was flexible, informative, and attentive to all of my requests throughout the process. My fiancé loves her new ring. When I need another piece of jewelry in the future this is the only place I would go.
Sydney Hammons
August 21, 2022.
We worked with Shimon to create an heirloom, custom piece to commemorate the birth of our first child - with the intent that she will inherit this special necklace someday. From our very first interaction, Shimon treated us like family and took wonderful care to understand exactly what we were trying to achieve. We could not be happier with the finished product and cannot speak highly enough of our experience working with Shimon. Looking forward to our next project with you Shimon, thank you again!!
Lindsay Hirsch
August 11, 2022.
My experience at this jewelry store was amazing. Shimon was open and honest and I would go here again 🙂 Thank you!
Pure Air Service AZ
July 29, 2022.
Thank you Shimon for your patience with me. I called finer custom jewelry to find a diamond ring to Propose my girlfriend and Shimon was really helpful and profesional. Really recommend. She said yessssss 😊
The reviews speak for themselves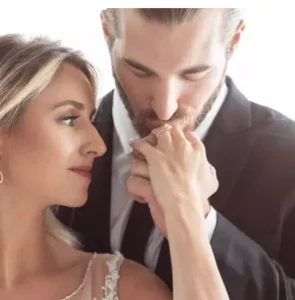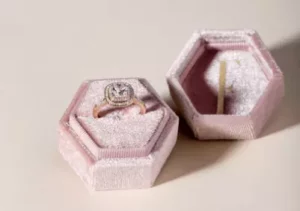 "The team at finer listened and understood exactly what I was looking for. They were Honest, Transparent, And made me Confident in my Choices."
BAND :
ROSE GOLD
STYLE :
HALO
PRECIOUS STONE SHAPE :
LAB CREATED BRILLIANT DIAMOND
WHERE HE PROPOSED :
TOP OF CAMELBACK MOUNTAIN
Finer Custom Jewelry In The Press
NOMINATED #1 ENGAGEMENT RING STORE BY AZ FOOTHILLS MAGAZINE!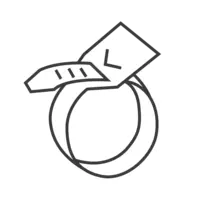 Download Your Free Ring Sizer !
Easy way to find out yours or your partner's finger size.
Download yours for free today to start the Finer Custom Jewelry Design process.