THE JEWELERS THAT ARE
DISRUPTING THE STATUS QUO


FINER JEWELRY BEGAN TWO YEARS AGO, LAUNCHING IN THREE LOCATIONS (SCOTTSDALE, AZ; HOUSTON, TX; DALLAS, TX). TOGETHER, OUR DESIGNERS HAVE A COLLECTED 30 YEARS OF EXPERIENCE SOURCING, DISTRIBUTING, AND DESIGNING CUSTOM JEWELRY.
FINER JEWELRY IS CHANGING THE WAY YOU SHOP FOR DIAMONDS. WE STRIP DOWN THE MASS PRODUCTION, COMMISSION-BASED HUSTLE OF THE CURRENT GEM INDUSTRY TO AN EXPERIENCE CENTERED ON SERVING OUR CLIENTS.
OUR JEWELRY CAN BE A REMINDER OF OUR COMMITMENT TO LOVE, CELEBRATION OF LIFE, OR AN HEIRLOOM HOLDING A CENTURY OF FAMILY HISTORY.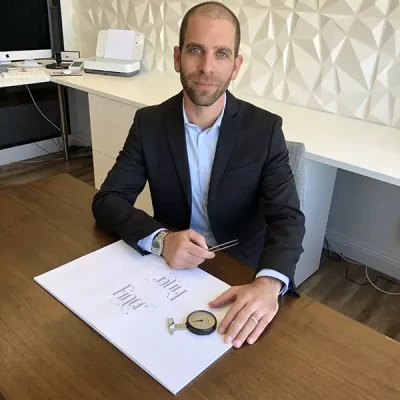 SINCE I CAN REMEMBER I'VE BEEN FASCINATED WITH DIAMONDS AND THE WAY THEY SPARKLE. I GOT STARTED IN THE WHOLESALE DIAMOND BUSINESS 6 YEARS AGO SUPPLYING DIAMONDS TO THE PHOENIX VALLEY STORES. AFTER FOUR YEARS OF BUYING, TRADING AND SELLING OVER 1000'S OF DIAMONDS I DECIDED IT WAS TIME TO BRIDGE THE GAP BETWEEN CONSUMERS AND THE WAY THEY SHOP FOR THEIR MOST PRECIOUS JEWELRY. THAT'S WHERE FINER JEWELRY CAME INTO THE PICTURE. FINER WAS STARTED IN 2018 IN SCOTTSDALE, ARIZONA.
I ENJOY THE EXPERIENCE OF SITTING DOWN WITH MY CLIENTS TO EDUCATE THEM ONE ON ONE ABOUT DIAMONDS. I FEEL FORTUNATE TO DO WHAT I LOVE EVERY SINGLE DAY!
I HAVE ALWAYS BEEN PASSIONATE ABOUT BUILDING LONG LASTING RELATIONSHIPS WITH PEOPLE. IT JUST SO HAPPENS THAT JEWELRY AND DIAMONDS BECAME A PART OF MY LIFE AT AN EARLY AGE, AND EVER SINCE THEN, I CAN'T IMAGINE MY LIFE WITHOUT IT. HELPING MY CLIENTS CHOOSE THE PERFECT PIECE OF JEWELRY FOR THEIR LOVED ONES GIVES ME TRUE SATISFACTION AND I AM COMMITTED TO THE PROCESS OF EDUCATING ALL OF OUR CLIENTS TO MAKE SURE THEY CHOOSE SOMETHING THAT IS TRULY REFLECTIVE OF THEIR STYLE.
IF YOU ARE LOOKING TO CREATE SOMETHING TIMELESS, MEANINGFUL AND BEAUTIFUL, I AM YOUR GUY. I LOOK FORWARD TO BEING A PART OF THIS SPECIAL PROCESS WITH YOU.
IT ALL BEGAN IN TEL-AVIV, ISRAEL WHERE I WAS FORTUNATE TO BE BORN INTO A FAMILY OF DIAMANTAIRES, SPARKLING STONES SURROUNDED ME THROUGHOUT MY LIFE. AFTER WORKING WITH DIAMONDS FOR SEVERAL YEARS, I FELT THE OVERWHELMING URGE TO FOLLOW MY PASSION FOR CREATING BEAUTIFUL PIECES OF JEWELRY WITH THE STONES I HAD COME TO LOVE ALL MY LIFE.
COMING FROM THE WORLD OF WHOLESALING DIAMONDS, I HAVE A FIRM COMMITMENT TO ONLY BUY DIAMONDS AND GEMSTONES THAT MEET OUR EXCEPTIONAL QUALITY STANDARD. I SOURCE THE DIAMONDS AND GEMSTONES FROM SECOND-HAND BUYERS WHICH MEANS THAT THE STONES ARE RECYCLED (SOMETIMES EVEN RECUT) AND BY DOING SO I HELP TO REDUCE THE NEGATIVE EFFECT THAT DIAMOND MINING IS CAUSING THE EARTH.