Create Your Own Engagement Ring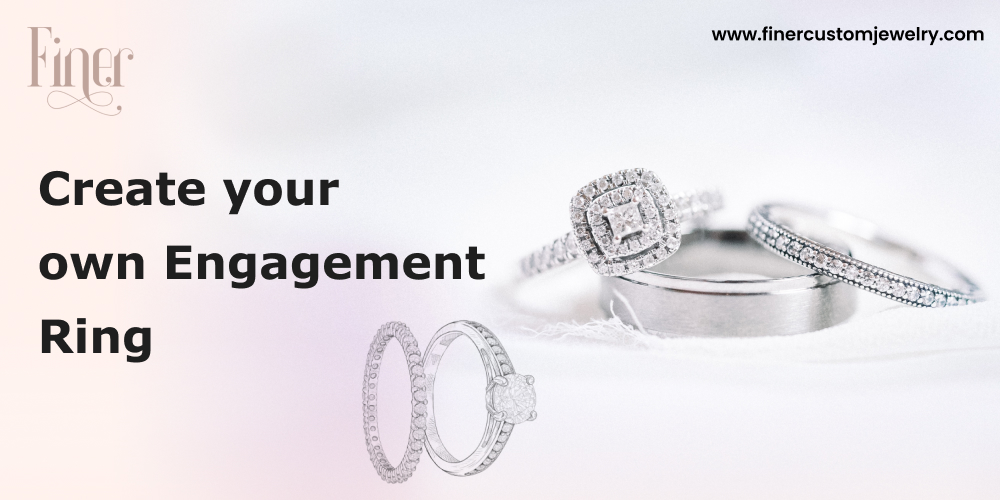 Custom engagement rings are an excellent choice if you want something unique. When you build a bespoke engagement ring, you may personalize every element of the band, from the design to the materials. It enables you to design the engagement ring of your dreams, a ring that expresses your couple's unique love story.
If you're thinking about getting a bespoke engagement ring, keep reading to discover all you need to know about making a custom engagement ring. We'll provide the information below to help you understand topics like the custom production schedule, your design possibilities, how to collaborate with a jeweler, and more.
Time Frame
One of the most crucial factors to consider when designing a bespoke engagement ring is your time frame. Because you'll need time to design your ring, approve each step of the design process, and wait for your ring to be manufactured, creating a bespoke ring design takes longer than buying a pre-made engagement ring. A custom engagement ring might take anything from a few weeks to a couple of months to build. So, if you want a bespoke ring, begin the design process well in advance of your intended proposal date.
Budget
Always establish a budget before beginning the custom design process. Then, before you begin working on your ring, make sure to communicate your maximum budget with your jeweler. The cost of a bespoke engagement ring may be affected by a variety of factors, including the precious metal used, the diamonds used, and the complexity of the design. If your jewelry designer is aware of your maximum spending limit before you begin the ring design process, they may keep it in mind while they assist you in designing your personalized ring.
Many individuals choose bespoke because they already have a design in mind. If you have a design already, consider taking photographs of the items you desire or a drawing to the jeweler.
Share your Ideas 
Then, if you aren't entirely sure what you want for your unique design, conduct some research and be inspired. Examine pre-made engagement rings and save photos of ones you like, noting what you like about them. Then, take your inspiration board to the jeweler and discuss what you like in your inspiration photos. Your jeweler may assist you in determining what you want in an engagement ring and using your choices as a starting point for your unique design.

Choose the Metal
One of the most appealing aspects of designing a bespoke engagement ring is the ability to select the precise materials you like. You can, for example, choose a conventional precious metal such as yellow gold, white gold, or platinum for your precious diamonds. You may also opt for something a little more unusual, such as rose gold, titanium, palladium, or a mixed metal design. Consider all of your precious metal alternatives before your custom design session to see if there are any that you are especially drawn to.
Choose a Diamond
While white diamonds are the most conventional gemstone for an engagement ring, you have a plethora of gemstone alternatives to pick from when you go bespoke. You may choose a colored diamond, such as blue, pink, or yellow. You may choose a valuable gemstone such as a blue sapphire, a ruby, or an emerald. Then, you may choose from a variety of gemstones or diamonds to create a highly intricate and one-of-a-kind appearance. The sky's the limit when designing a custom-made engagement ring!
Enjoy the Procedure
Our final but most crucial suggestion is to remember to relax and enjoy the personalized design process. Because there are so many alternatives to select from, designing your engagement ring might be intimidating at times. However, if you become agitated during the custom design process, remember why you are doing it. If you're still feeling a little overwhelmed by the procedure, seek advice from your jeweler.

Contact Finer Jewelry, the top producer of custom engagement rings and wedding bands, if you're thinking of making a bespoke engagement ring. We specialize in creating handmade engagement rings and other unique jewelry, and we like assisting our customers in realizing their visions.
Our custom design process at Finer Jewelry starts with pairing you with an artist who will work with you to create your engagement ring. Your artist will discuss your unique design ideas with you and then sketch your ideal ring.