Diamond Engagement Rings for Women
For such a special occasion, an engagement ring should be unique. The types of engagement rings are as varied as the women who wear them. A round brilliant solitaire engagement ring is one of the most common rings. If you like vintage-inspired engagement rings or a double ring, our enthralling range will astound you and provide you with the finest you might have hoped for.
A diamond engagement ring is a perfect present because it has a deep emotional connection. Taking your relationship to the next step is like a fairytale come true, and doing so with the unique diamond engagement ring is like icing on the cake.
Diamond Engagement rings for women have a wide variety of designs and options. Choosing the perfect diamond engagement ring for a woman is a big job, so why not make it easy with Finer Jewelry?
At Finer Jewelry, you'll find unique engagement ring designs for women. Take advantage of the opportunity to present her with a stunning diamond ring from Finer Jewelry. Women's unique engagement rings entail a halo engagement ring, antique engagement ring, and many other styles.

Engagement Ring Styles
Solitaire Ring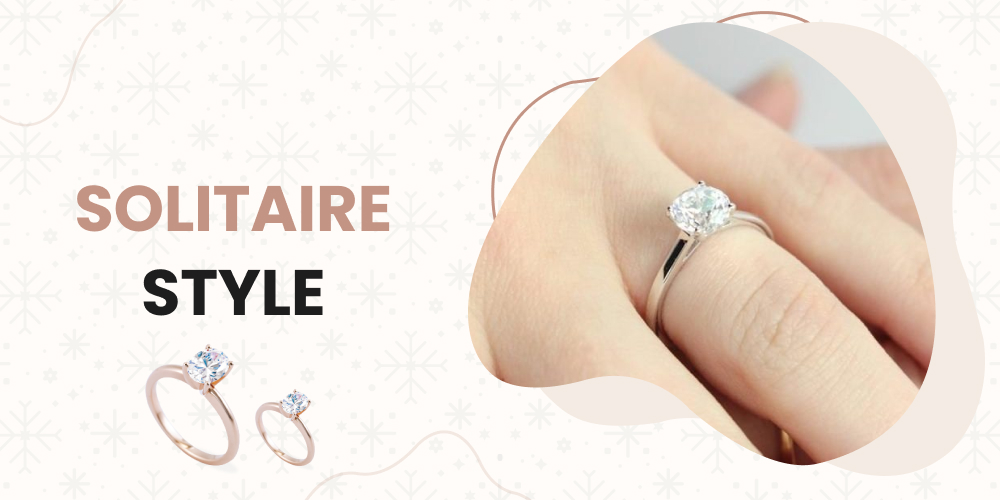 A solitaire ring is an engagement ring with only one diamond or other stone. Many customers like the solitaire ring setting due to its timeless charm and willingness to highlight individual features. Solitaire is one of the most popular engagement ring styles, followed by halo and three-stone ring. 
Halo Style Ring
Halo settings encircle the center stone with a ring of smaller diamonds or gemstones that bounce light off the center stone and make it appear larger. This is particularly helpful if you're on tight resources and want to "supersize" the sparkle of your center stone without increasing your budget.
Pave-Style Ring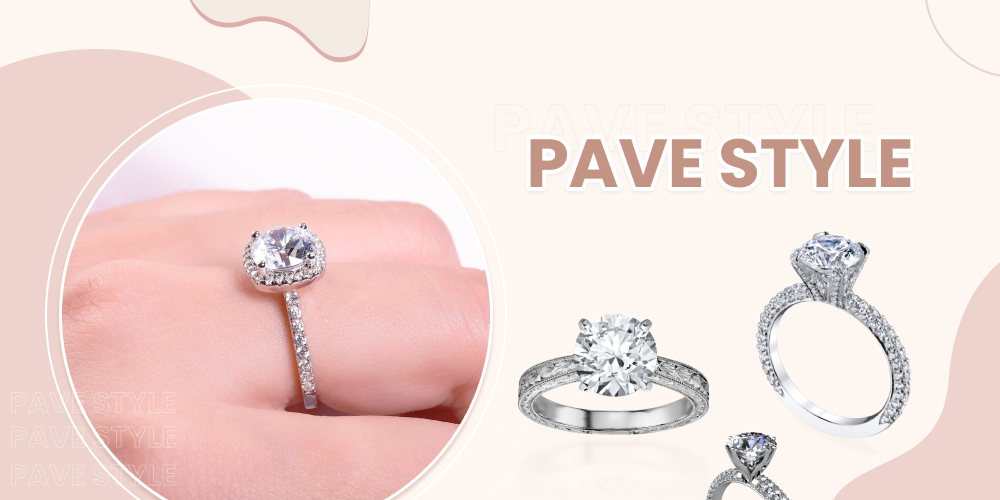 A pave engagement ring has small accent stones surrounding the center stone or embedded in the band. The net result is that there is more sparkle. Some pave patterns may make the central diamond appear larger. Pave patterns include: Micro Pave, French Pave, Bright cut, Bezel, and U-cut.
Three-Stone Ring
It is a symbol of friendship, love, and fidelity. There are no hard and fast guidelines when it comes to picking an engagement ring today. You should add your own importance to it, whatever is significant to you. Your engagement ring is entirely unique to you. A three-stone engagement ring displays a lovely trio of diamonds. It is one of the most distinctive engagement ring designs for women. A dazzling main diamond is surrounded by two smaller diamonds. For a three-stone engagement ring, round diamonds are preferable.
Bezel Style Engagement Ring
A bezel is a type of diamond setting that consists of a ring of metal that encircles a gemstone and holds it in place. This creates a clean, small, and protective frame around the center stone of a ring. Even though this setting is considered new and daring, bezel settings are among the oldest jewelry settings in use throughout history.
Tension-Style Ring
A tension ring is a ring of just one diamond or gemstone. A diamond is typically held in place by prongs or a bezel setting. The diamond is held in place by prongs, which are surrounded by a bezel. It's clear to see how the stone is kept in place. The metal holds the diamond or gemstone in place in this setting. So, the name is Tension-Style ring. 
There are many other styles of engagement rings for women. These include vintage rings, cluster rings, cathedral rings, oval halo, shank, split shank, double diamond, and many more.
If none of these rings pleases you, then you can go for custom rings from Finer Jewelry. Our craftsmen will design the exact ring you want to symbolize your eternal love.