How to Choose The Perfect Engagement Ring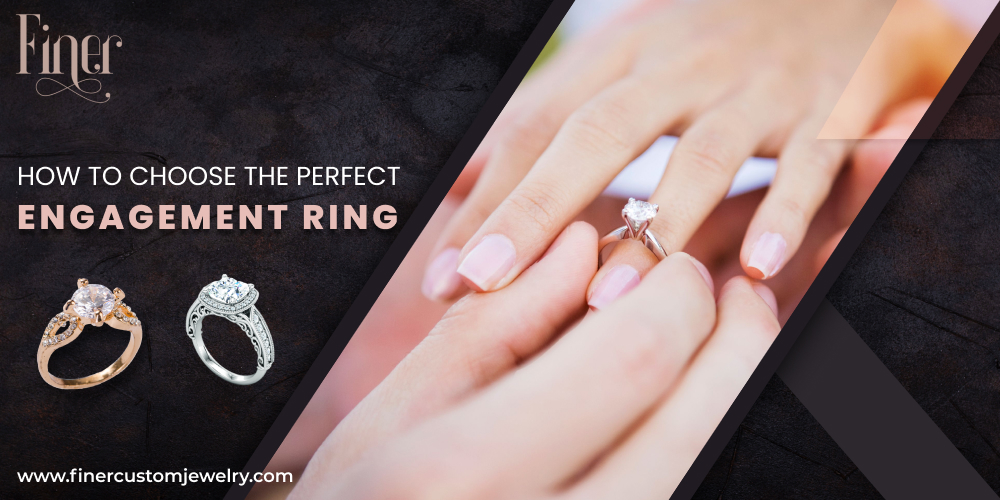 Is it finally time to start looking for a ring? Congratulations! Buying an engagement ring and planning a proposal is a crazy exciting moment, and it's easy to get caught up in the romance, but remember: An engagement ring is usually a significant investment, so make sure you do it right.
A diamond engagement ring symbolizes passion and dedication. It is an outward expression of your inner feelings for your bride-to-be. Before buying your diamond engagement ring, there are a few things to think about.
Know the 4Cs
The first advice for purchasing a diamond engagement ring is to understand the 4Cs: color, cut, clarity, and carat weight. The 4Cs, developed by GIA, is the worldwide standard for determining the diamond quality and allowing you to compare one diamond to another.
Once you've grasped the meaning of the 4Cs, the next step is to ask yourself, "What is the most important C to me?" Prioritizing the 4Cs will allow you to quickly remove some diamonds from your search and focus on those that will delight your bride-to-be.
Understanding the 4Cs is worth the time because it is the universal language for describing diamond quality. Knowing this language allows you to buy a diamond engagement ring with confidence.
Decide on your shape
One of the first steps in designing a ring is deciding on the shape of your diamond. Personal preference plays an important factor in choosing a diamond's shape. There are rings for every personality, from stunning heart-shaped rings to oval styles. 
Some people prefer a more traditional look, such as a round brilliant solitaire ring or a cushion cut with a pave band. Others prefer something more distinctive, such as a pear-shaped ring. Make your preference peculiar, and think of your partner's choice while selecting a shape.
 

Find her Style
Consider what best fits her lifestyle and personality when selecting the perfect engagement ring. Aside from your budget, her style and daily activities should be the primary factors guiding your decision. Some of the styles include Traditional Solitaire, Pave & Halo, Vintage rings, Contemporary rings, and many more.
Traditional Solitaire Ring:  A classic solitaire setting is timeless and allows the center diamond to shine without distraction. The most common style of engagement ring is a solitaire, a ring with a single center diamond. The most traditional solitaire has a simple metal band.
Pave & Halo: She might prefer a setting that elevates her diamond or one with sparkling pave set diamonds on the band. Halo engagement rings are also prevalent. Halo settings encircle the center diamond with diamonds to add sparkle and make the center diamond look bigger.
Vintage Rings: Does your partner love romantic and timeless things? Consider vintage one-of-a-kind rings for them then.
Contemporary: If your partner loves modern minimalist designs, then consider a bezel setting, which is a thin metal band that wraps around.  Consider a wide band ring with beautiful detail if she tries to avoid the traditional center diamond entirely. Diamond or gemstone accents add a touch of glam.
Select your Ring's Metal
You have a variety of metal types and colors as an option for your ring. The metal of a ring not only adds to the personality of the design but can also improve the appearance of the gems it supports. White gold and platinum have been popular for many years, and both provide a sleek, modern appearance.
Design the Perfect Engagement Ring
How to choose the perfect engagement ring? Does this question still arise? Then design the perfect engagement ring instead of choosing one. At Finer Jewelry, our craftsmen will help you make an exact ring, which is in your mind. We will also suggest the best choice according to the lifestyle and preferences of your partner.
Selecting the perfect engagement ring should be independent of recent trends, and it should have a personalized touch. This personalized custom ring will always tell a story – your love story.