How to Choose the Perfect Jewelry for Your Wedding Day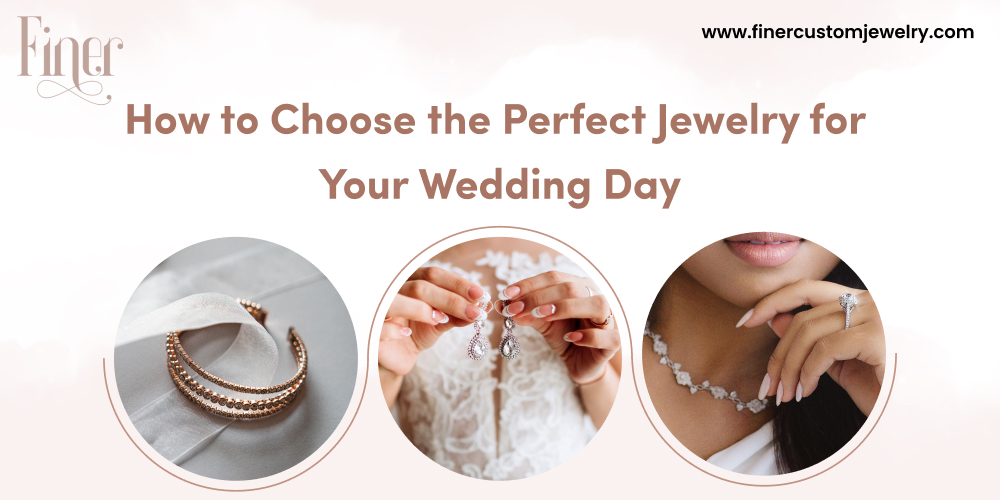 It's your day to shine during your big day, your wedding. It's the most memorable day of your life; make it more beautiful with attractive jewelry.
The accessories you'll wear to complete your bridal appearance should be as significant as your wedding gown.
It might be difficult to choose jewelry for your wedding. How can you pick from so many options? You want an elegant appearance on your big day, whether you're wearing a layered necklace, dangling earrings, a bracelet, or all three.
After all, you'll be looking at your wedding photos for years & years to come, so why not make sure your jewelry is perfect & beautiful? Keep these points in mind before you buy wedding jewelry.  
Less is more
When it comes to wedding jewelry, the statement "less is more" becomes true. Overdoing your jewelry will take away your wedding gown's attention. So, overdoing your wedding jewelry is the last thing you want to do.
Jewelry should not detract from the beauty of your wedding gown. Both the gown and the jewelry must be interconnected, and they should complement each other, not outshine each other. It is up to your knowledge how you want to mix things up.
If your gown has an embellished neckline, for example, then you won't want to wear a necklace. It appears to be overly crowded. So, the neckline of your dress matters too.
 
Match your jewelry with the gown
Making a statement with a bejeweled necklace will give you a gorgeous look if the design of your wedding gown is basic.
To be more creative, keep in mind that not everything has to match perfectly. It's just necessary that your jewelry items match. With the correct contrast, you may create a deliciously attractive look. When it comes to jewelry, deciding whether to go with platinum, rose gold, yellow gold, or silver might be tough.
However, the fabric of your wedding gown will assist you in making your decision. With a white gown, platinum and silver look stunning. However, if your wedding gown is ivory, gold jewelry will complement the appearance the best.
A pink-hued wedding gown looks great with rose gold. Burnished silver will sparkle if your dress is pale beige.
Keep in mind that the details on your wedding gown should be coordinated with your jewelry. The beading will determine the metal and stones you wear on your garment.
Don't forget about your fingers and hands. To appear your best, match your wedding ring sets with the fabric of your gown.
Jewelry that accentuates your dress
Your bridal style will be enhanced by selecting the appropriate size of the jewelry. Choose jewelry that isn't too tiny and will go overlooked. If your wedding gown is ornate, you'll want your jewelry to be understated but not unnoticeable.
Wear fewer pieces of jewelry if your dress is on the basic side. A single necklace that complements the rest of your outfit and matches your earrings and ring sets can look great on occasion.
Keep your neckline in check 
The neckline of your wedding gown will determine the necklace you wear. Wear a choker if your dress has a sweetheart neckline or has no straps. It will elegantly highlight your neck.
However, if your gown has a high neckline, forgo the necklace and opt for a set of dangling earrings instead. Choose fresh flowers in your hair and a pair of chandeliers or drop earrings if your dress's neckline is embellished and a little high.
Do you want to wear a v-neck wedding gown? The style will be completed with a pendant necklace or a choker. You may also combine them and wear them with studs or hanging earrings.
Final Words
Brides shop wisely and select jewelry that will be worn long after the wedding is done. Invest in something you'll want to wear again and again with different outfits. That will both remind you of your beautiful wedding day and be useful too. Classical designs are appealing. However, if you want to try something different, go for it; as long as it's done well, you'll look fantastic.
You'll have an impressive appearance on your big day if you choose the correct necklaces, earrings, and ring set to complement your wedding gown. If you're still confused, visit Finer Jewelry. Here, our experts will help you choose the ideal piece of jewelry you're looking for. You can customize your wedding jewelry here.