June Birthstones: Pearl, Alexandrite, and Moonstone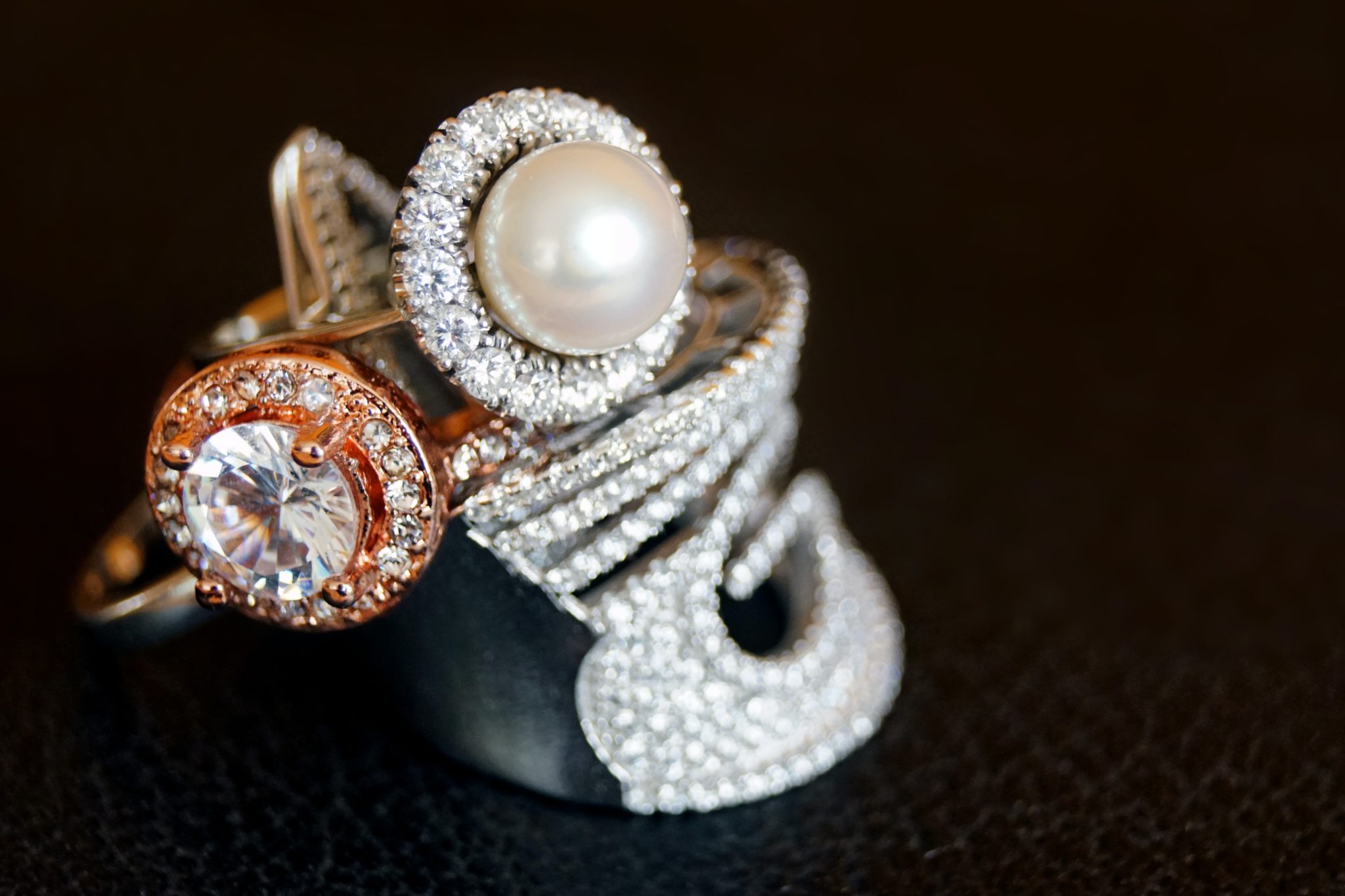 If you were born in June, you are one of the lucky few who has three birthstones to choose from. Pearl, alexandrite, and moonstone are all gems that mark June birthdays, offering a wide range to choose from when selecting birthstone jewelry.
Learn more about each of the three stones to help you decide which one is right for you.
Pearls
As a Gemstone:
Pearls are naturally found in bodies of water, like the ocean or lakes, and grow inside oysters and mussels. Natural pearls, or pearls that are found organically, are extremely rare. Cultured pearls, on the other hand, are those that have been farmed from pearl mussels and oysters, and are most commonly used in jewelry-making.
Their Meaning:
Because pearls grow in water, they are often associated with the sea. Their shimmering, white luster has also created an association with purity and innocence, which has led to a tradition of pearls being given as wedding gifts.
Origins:
Pearls are grown in both freshwater and saltwater, so they can be found in various regions around the world. Many pearls are found off the coast of Japan and China, while South Sea pearls grow in Indonesia, Australia, and the Philippines.
Qualities:
Because pearls are not cut like other gemstones, they are graded on a different scale. Pearls are sized in millimeters, and like carat weight for diamonds, the millimeter size tends to have a strong influence on the pearl's price. Unlike diamonds, pearls are quite soft and rank at a 2.5 on the Mohs hardness scale, which means they are delicate and should be worn carefully.
Alexandrite
As a Gemstone:
Alexandrite is a rare gemstone that changes color in the light. First discovered in the Ural Mountains in Russia in the 19th century, this stone shifts between green and red hues. The stone is formed from titanium, iron, and chromium, which give it its green shade that is similar to an emerald.
Their Meaning:
Because of its shifting colors, alexandrite is a stone that represents balance. The stone is cherished in Russia where it was first discovered and is often thought to bring luck and good fortune to the wearer.
Origins:
Because of its rarity, alexandrite is found in only a few specific locations around the world. The majority of the gems come from mines in East Africa, Brazil, or Sri Lanka. Even in these places, however, the instance of alexandrite is incredibly rare, which makes it one of the more expensive gemstones.
Qualities:
Alexandrite is a hard and durable gemstone, ranking at an 8.5 on the hardness scale, making it a perfect choice for jewelry that is worn every day. 
Moonstones
As a Gemstone:
Moonstones are defined by their opalescence. The shimmering surface appears in a bluish tint, but the colors shift and change depending on the light. With origins stretching back as far as the Roman empire, moonstones have been treasured gemstones for centuries
Their Meaning:
Because of its ethereal iridescence, moonstones are thought to be moonbeams captured within the stone. The stone's association with the moon has also created a tie to moon gods and deities within different cultures around the world. Similar to the symbolism of the moon, moonstones also represent femininity and fertility.
Origins:
Moonstones are found around the world, however, each region's stones have different characteristics. Colored moonstones are most often found in India, while white moonstones are mined across Sri Lanka, Brazil, and Australia.
Qualities:
Like most gemstones, moonstones are graded on the 4 Cs. The color should be a clear blue, and the most common cut for moonstones is a cabochon, which is a domed shape perfect for rings, pendants, and other jewelry. Moonstones fall between pearls and alexandrites on the Mohs hardness scale at a 6.5, making them a wonderful choice for frequent wear.
Birthstone Jewelry 
No matter which of the three June birthstones you prefer, they are all a wonderful choice for different types of jewelry. From earrings to bracelets to necklaces, each of the three is an exquisite choice to add a touch of sparkle and glamour to everyday or special occasion accessories.
If you are looking for a piece of June birthstone jewelry, look no further than Finer Custom Jewelry. With ready-made designs available, you can pick a piece that suits you and your style—or you can also work with Finer Jewelry's team to custom-design your own creation. Thanks to decades of combined experience, high-quality and ethically sourced materials, an array of metals, and an exquisite eye for design, their team can make any jewelry design a reality.
Contact us for help finding your perfect piece of birthstone jewelry today.