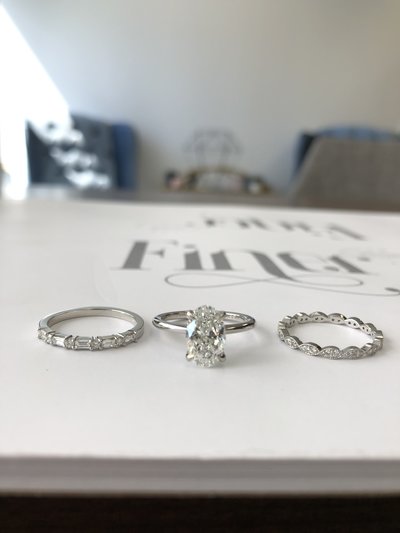 ---
STYLE
Custom Made Classic Oval Solitaire
---
PRECIOUS STONE SHAPE
GIA Certified Oval Brilliant Diamond

---
WHERE HE PROPOSED
Grand Canyon National Park
"SHIMON IS THE BEST! HE REACHED OUT IMMEDIATELY TO GET A LITTLE BACKGROUND OF OUR STORY AND GET A FEEL OF WHAT WE WERE LOOKING FOR IN A DIAMOND. ALTHOUGH BUYING A DIAMOND IS 'BUSINESS', THE REASON (ENGAGEMENT) IS VERY PERSONAL – SHIMON RECOGNIZES THAT! AFTER MULTIPLE CALLS AND TEXT MESSAGES DISCUSSING DIAMONDS/SETTINGS, HE NOT ONLY SHOWED US THE DIAMONDS WE WERE INTERESTED IN SEEING, BUT A DIAMOND HE THOUGHT (BASED ON OUR NUMEROUS CONVERSATIONS) WE WOULD LIKE…..IT TURNED OUT TO BE THE DIAMOND THAT I FELL IN LOVE WITH. THAT'S ALL MY FIANCE WANTED…ME TO LIGHT UP WHEN I FOUND THE RIGHT DIAMOND. THANKS TO SHIMON, THAT'S EXACTLY WHAT HAPPENED! 
AFTER I DECIDED ON THE DIAMOND, SHIMON AND I MET AGAIN TO GO OVER THE DESIGN OF MY RING. THAT ORIGINAL DESIGN CHANGED MANY TIMES BEFORE OUR NEXT MEETING. HE PUT UP WITH MY ENDLESS TEXTS (DAILY) WITH NEW IDEAS UNTIL WE MET AGAIN. BY THAT NEXT MEETING I WAS CERTAIN OF THE STYLE I WANTED – TOGETHER WE COLLABORATED TO DESIGN THE PERFECT WEDDING SET.
MY FIANCE AND I PICKED UP MY RINGS A FEW DAYS AGO. I CANNOT PUT INTO WORDS THE EMOTIONS I FELT SEEING MY RINGS (ENGAGEMENT & 2 WEDDING BANDS) – PERFECTION!! THEY ARE UNIQUE AND EVEN MORE SPECIAL BECAUSE OF THAT!
FROM THE DIAMOND TO THE DESIGN OF THE RINGS, SHIMON MADE CERTAIN WE WERE HAPPY! THE AMAZING CUSTOMER SERVICE HE PROVIDED WAS AN ADDED PLUS!! SHIMON (FINER JEWELER) IS, HANDS DOWN, WHO YOU WANT TO WORK WITH!! – DENNIS