Three-Stone Engagement Rings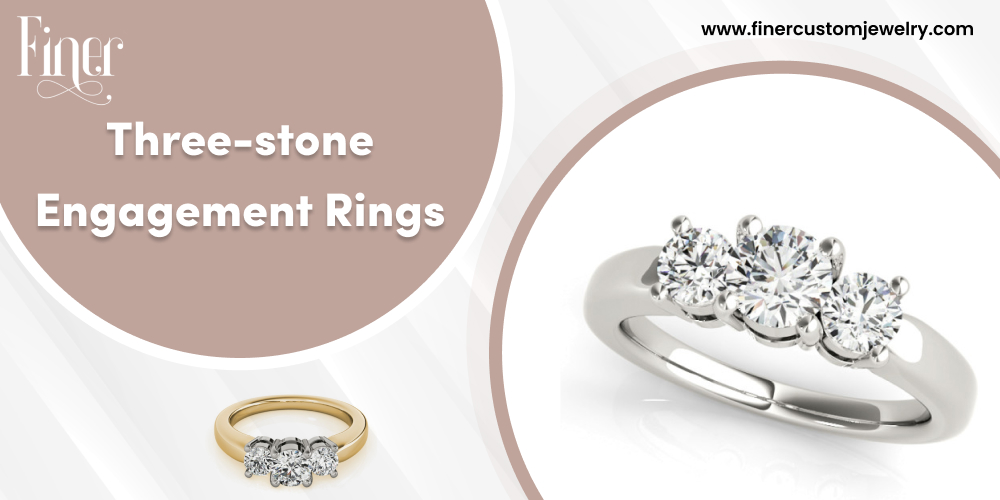 Congratulations! You finally met the person you feel special for & decided to take vows with. You're on the hunt for the ideal engagement ring to display and represent your perfect relationship. The three-stone engagement ring is one of the best choices that will signify that you've had your past together, you're together right now, and are planning to stay together in the future. It shows your life is full of love, faith, and hope.
While you may be tempted to go with the tried-and-true solitaire ring, resist the urge and try out a few alternatives. Because of its significance and symbolism, the three-stone engagement ring has increased in favor.
These rings have a different significance than typical solitaire rings, and they may convey a story about a marriage. The three stones on a ring represent the past, present, and future. The largest and most central stone represents the present, while the lesser side stones reflect the past and the future.
What Are three-stone Engagement Rings?
Several jewelers have mixed many distinct diamonds into a single ring in the past. However, the three-stone engagement ring went viral of all the designs developed. In most cases, the ring has three diamond stones on it. The three stones are made up of a big center diamond and two smaller diamonds on the sides. All three stones have the same cut and shape and were mounted in the same way. The band of the ring can be made of any metal, including platinum, gold, silver, and other metals.

Styles 
The three-stone diamond rings may be set with a variety of diamond shapes and styles, giving you a wide range of possibilities. The central stone, as previously indicated, is bigger than the stones on the sides. The bigger stone usually weighs the same as the two side stones combined. The princess and round diamond shapes are the most popular in three-stone engagement rings because they go together well. Emerald, Marquise, Asscher, Round, and Oval are more popular forms.
These stones should, ideally, be of the same form. It is possible to combine diverse forms into a single piece. For example, an emerald form might be paired with trilliants for side stones, or a princess could have trilliants on the sides. Do not combine two unsettling diamond shapes like heart-shaped diamonds with emeralds. Here are some of the examples:
Cushion-Cut Three-stone Ring
Meghan's engagement ring has two brilliant round diamonds on the edges and a cushion-cut diamond in the center. Cushion cut diamonds are becoming more popular as they appear bigger and affordable per carat than round brilliant cut diamonds.
Round Three-stone Engagement Ring
The traditional round brilliant three-stone engagement ring, the original and still the most popular, has a lot going for it, notably for its exquisite symmetry and maximum brilliance.
Oval Three-stone Engagement Ring
The triple oval cut three-stone engagement ring is elegantly assertive yet sophisticated. It is having a moment owing to the popularity of oval cuts in general. The oval three-stone engagement ring combines the finger-lengthening benefits of an oval solitaire with the finger-covering brightness that three-stone designs are known for.
Princess-Cut Three-stone Ring
The ideal three-stone ring includes three princess cut diamonds if you enjoy geometry. They line up so beautifully, gently dropping down in size to the band. Want to customize your three-stone ring: princess cut ring by playing with the symmetry? The center or side princess cuts can be rotated 45 degrees to produce diamond shapes.
Design Your Own Ring
Isn't a three-stone engagement ring stunning? Three-stone engagement rings with pear-shaped side diamonds are very popular. Three-stone types are particularly well-suited to fancy forms. A traditional three-stone style with tapering baguettes on the sides and your preferred diamond shape in the middle is another classic three-stone form.
With a three-stone engagement ring, you can even go for a birthstone or a gemstone. Colored gemstones and fancy colored diamonds in lovely colors are also accentuated by contrasting them with diamonds on the side or in the middle.
From trendy to antique-inspired, our collection of three stone engagement rings has something for everyone. This kind of setting symbolizes a couple's journey together. A three-stone ring is a stunning and romantic option because of its lovely symbolism and distinctive appearance. Or you can go with a custom three-stone engagement ring at Finer Jewelry.