What is a Pre-Engagement Ring?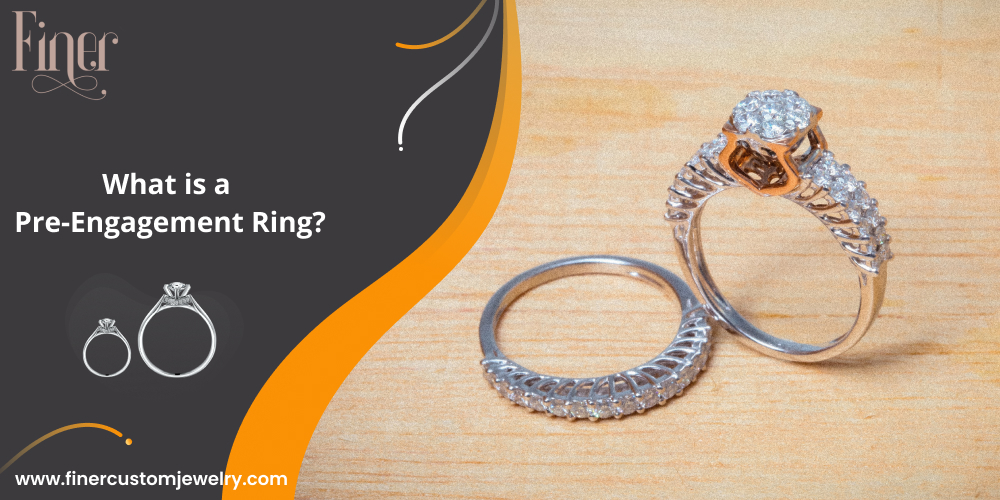 Pre-engagement rings are becoming more prevalent, with non-traditional matrimonial standards superseding traditional.
Pre-engagement rings are a significant step in certain people's dedication to each other before becoming engaged. These rings are purchased by couples who like to take it slowly, are very young, are short of funds for a wedding, or are unwilling to take the next step to marriage. A pre-engagement ring is a beautiful expression of the desire to dedicate your future to your loved one.
A pre-engagement ring denotes a degree of dedication and commitment. By offering or receiving a pre-engagement ring, you indicate that marriage is in the future. There is no timetable or wedding (or engagement) date to consider. It's just the realization that you're still in the partnership for the long term and might see yourself spending the rest of your lives together.
It's a way for a couple to make sure they're on the same page before submitting a proposal, which is particularly useful if the proposal would be made public! In this case, a pre-engagement ring isn't required; a chat would suffice, but it's a cool touch that some couples enjoy.
History of Pre-engagement ring
The idea of a pre-engagement ring has existed at several points in history. For example, Posy rings in the 16th century England were carved with love poetry. Acrostic rings, which feature a term spelled out in gemstones, are another kind of pre-engagement ring. For example, the word "regard" will be made up of rubies, emeralds, garnets, amethysts, another ruby, and a diamond.
The term "promise ring," similar to a pre-engagement ring, became popular in the 1970s.
Difference Between Promise Ring and Pre-engagement Ring
Promise rings and pre-engagement rings are somewhat similar in that all are called placeholders for the engagement ring to come. It is up to the pair to call the ring a promise ring or a pre-engagement ring. If you aren't planning on getting married anytime soon, it may be better to call it a promise ring.
The finger on which the rings are worn is the only difference between the two kinds of rings. Since pre-engagement rings are called placeholders, they usually go on the left hand's ring finger, where the engagement ring will finally go. Since you do not want to marry in the next few years, a promise ring can be worn on either finger.

Couples who might buy it
Sweethearts from high school: Most high school students are aware that they are not ready to marry, but they may believe that their boyfriend or girlfriend is the one they want to marry eventually. A clear, low-cost ring will represent their love, future vision, and dedication.
College couples
While getting married in college isn't impossible, it's not the best time for many couples. A pre-engagement ring is an option for those who aren't financially prepared for an engagement ring or a wedding but want a noticeable, sentimental sign of their commitment.
Recent graduates
They may not be financially prepared to pay for the kind of engagement ring or wedding they want. Such items don't have to be pricey; however, they can be. Depending on the couple's needs, a pre-engagement ring may be an affordable item to keep the potential engagement ring's position as they continue their careers and begin to save money.
Couples seeking commitment but not marriage
Marriage may not be something that any party in a relationship is interested in right now (though they wouldn't be resistant to the concept later on), but dedication is important to them. A pre-engagement ring may be the ideal way for them to symbolize their engagement.
So, what exactly is a pre-engagement ring? It must resemble an engagement ring, so it serves as a placeholder between it and the wedding ring to follow. Certain designs serve as a fitting metaphor for the sense of pre-engagement.
A heart diamond ring is an ideal way to express your love for one another. Since the heart and diamonds are synonymous with passion, it is an excellent choice for a pre-engagement or promise ring. When you promise to be with someone for the rest of your life with a heart stone, your loved one is wearing a ring with the mark of your heart on it.
You can always visit or rely on Finer  Custom Jewelry for a perfect engagement ring. We also provide custom jewelry service, which can make your jewelry a little more special.