Which Wedding Band is the Best For Him?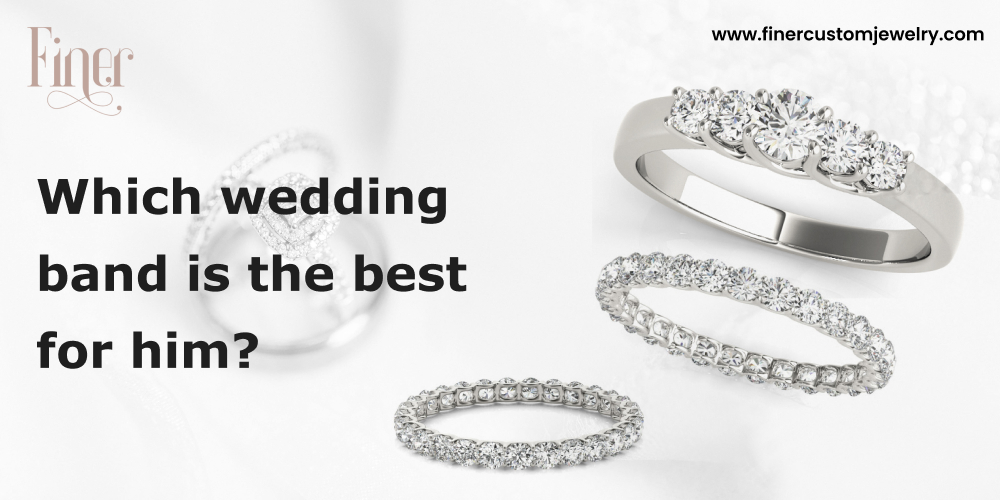 While the diamond engagement ring receives a lot of attention, the groom's wedding band is an important element of the wedding preparation process and a unique way to honor him. Choosing the ideal men's wedding band is a fantastic way to involve the groom in the preparation process while also ensuring that he loves his ring long after the "I dos" have been uttered.
When it comes to wedding jewelry, men's wedding rings are frequently overlooked.
Wedding bands for men may be found in a variety of styles. They might be understated, or they can be flamboyant and dazzling. They may also be constructed out of a range of materials, ranging from expensive metals like gold and platinum to more cost-effective metals like titanium and tungsten.
The traditional picture of a man's wedding band is a basic, uncomplicated gold or silver ring. Today, though, it's not unusual to see diamonds or other contemporary designs adorning men's wedding bands. There are high-quality alternatives to fit every taste and stylistic preference.
Gold 
Gold is a classic and timeless option for engagement rings, wedding bands, and many forms of jewelry. Gold is flexible, easy to keep, and has an appeal that few other precious metals can match.
Because pure gold is exceedingly soft and unsuitable for daily use, it is combined with other metal alloys for added strength. To indicate purity, gold bands are all measured in karats. Pure gold, for example, is 24 karats, but 18 karat gold is roughly 75% gold.
Yellow gold is a timeless option that complements both vintage and modern men's wedding bands. Anybody may wear a yellow gold wedding band, but it especially shines out on men with darker or olive complexion tones.
White gold offers a sleek, modern appearance that works well with light and rosy complexion tones. White gold is widely regarded as the most classic of all gold hues.
Rose gold Cooper is mixed with pure gold to make this metal, giving it its distinctive color. Rose gold is commonly utilized in modern, mixed metal settings with white or yellow gold to produce vintage-inspired men's wedding bands. Still, it is also regularly found in modern mixed metal settings with white or yellow gold.

Platinum
Platinum is one of the world's rarest metals, so it's no wonder that it's one of the most costly metals for men's wedding bands.
This white, mirror-like metal was formerly a very popular choice for jewelry. When platinum became unavailable for jewelry, white gold was developed as a less costly alternative. However, platinum has resurfaced as one of the most popular wedding band metals since the late 1990s.
A pure platinum ring contains at least 95 percent platinum and should be marked with a parts-per-thousand figure to show its purity. A piece containing 90% platinum and 10% alloys, for example, might be labeled "900" or "900 PLT" to signify 900 parts platinum out of 1000.
This metal also maintains its color over time. Unlike other metals, platinum does not require replating to regain its original brilliance. This metal's brilliance will not fade, so you may enjoy its gleam and glitter for years to come.
Titanium 
Titanium has grown in popularity as a material for men's wedding rings during the last few decades. Titanium is a remarkably tough metal that is as strong as steel but considerably lighter. As a result, titanium is ideal for guys who enjoy an active lifestyle.
Unique inlays, etchings, and other exquisite embellishments are common in titanium men's wedding rings. When it comes to titanium rings, the design possibilities are infinite, so you should have no problem selecting one that is right for you.
Titanium is a classy and elegant silver-white metallic hue. However, titanium comes in a variety of colors. Grooms looking for a unique option to white metal might opt for an edgy black titanium band.
Titanium is a classy and stylish silver-white metallic hue. However, titanium isn't available in just one hue. Grooms who want to stand out from the crowd might wear an edgy black titanium ring instead of white gold. 
Personalized Wedding Bands 
The best wedding band depicts your story. Get it personalized at Finer Jewelry. A band studded with diamonds or a solitaire wedding band is a classic choice. 
Shopping Tips 
Because selecting a groom's wedding band is such a significant purchase, take the time to make it all about him. It's never too early to start shopping, but three to six months before the big day gives you plenty of time to get to know your likes and dislikes. Purchase the band at least two months before the wedding to ensure that it is ready on the big day, in case it needs any resizing. 
If your groom is hesitant to wear a ring for the first time, choose a wedding band intended to be comfortable to wear. Because they require more material, these bands are a little more expensive, but they're easier to glide over the knuckle and don't pinch the skin. Many men are unfamiliar with wearing a ring, but if the band is well-fitting and comfy, he'll quickly adjust and wear it for years. 
There's a men's wedding ring option out there for every groom, whether you want a classic style or something as unique as your relationship, buy a wedding band from Finer Jewelry.