Custom Jewelry In Dallas
Find the Most Handcrafted custom jewelry in Dallas studded with real gems and precious stones. So flaunt your luxurious look with the Finer Jewelry, like never before.
Explore Our Collection
Finer Jewelry Has The Most Impressive Collection Of Custom Jewelry In Dallas That Goes Perfectly For Any Occasion And Any Festival. Our Experts Have Specially Designed Those Gems For YOU! Visit Our Engagement Ring Stores In Dallas For Such Vibrant Designs.
Engagement Rings
Engagement Rings is the symbol of dedication, commitment and endless love towards each other. It is a remark to a new beginning and a beautiful journey of becoming one. This moment really holds a special place for everyone isn't it? So, how to make it memorable and reminiscent? Visit our engagement ring stores in Dallas and express your feelings with the real sparkle of our diamond rings in Dallas, because we know your love is infinite and real. And so, our collection for you offers handpicked designs and sterling shapes blending the purity of metals with the natural impression.
Did you know, we also offer customized Engagement Rings in Dallas that you can create on your own with – a natural diamond, lab diamond or a natural setting? Our exceptional designs give you the best choices to select for your special one because such a golden moment won't come again. If required, our experts and GIA certified professionals will assist you in selecting the right metal and the right color of the stone. Besides that, you can also shop for diamond rings in Dallas, something that we are known for! Don't miss our special collections, because these are really rare to find.
So, make all the arrangements with Finer Jewelry and promise her now! Show her that you will choose her in a hundred lifelines, in a hundred worlds, in any version, in any reality. Cherish these small moments and big them large with our Custom jewelry in Dallas. She will say 'Yes' definitely. Thus, visit our engagement ring stores in Dallas and get the best ring of all because it's the BEGINNING of ALWAYS.
Wedding Rings And Bands
Do you know why wedding rings are worn on the fourth finger? Because the veins of the fourth finger are directly connected with the heart. That's the specialty of wedding rings and therefore many never take the ring off. So, how are you planning to start the new stage of your relationship? At Finer Jewelry, we know how to impress your partner and thus, offers a line of wedding rings in Dallas that speak up louder than your words. We respect every relationship, every bond, no matter the timeline, no matter the age. The only thing that matters is the purity of love and respect for each other. So, if you have a second marriage or looking for wedding rings in Dallas to give to your partner, as an emblem of commitment, we take pride in presenting you with a pure collection, free from social stigma, free from mediocre thoughts. Our bold designs and thoughtful stones will speak the story of love and not the words of society. It will encourage you to cross the last step and stay together ALWAYS because we know, our jewels will do. Therefore, make no more delays and hold your partner, bring her to us, and we will offer the incredible wedding bands in Dallas, inclined with a never-ending fashion. Our timeless collections are breathtaking and ethereal. So, just adorb your dream and explore the subtle yet elegant collection of diamond rings in Dallas.
Earrings
Want to perk up your look and accentuate your shine? Earrings are the wonderful way to elevate your brightness and make you look classy. It enhances one's look and gives us a reason to flaunt the outfit. So, if you are looking for regular wear or occasional wear earrings, we can definitely help you here. At Finer Jewelry, we offer an ever-lasting collection of Custom jewelry that embellish your facial outlook and modify your beauty a little more with the super classy ethereal collection. Visit our store in Dallas to shop with the most worthy designs and jewelry pieces ever. Our refined designs and naturally picked stone will revamp your beauty and bring a standout impression from the crowd. We have contemporary earrings that are purely studded with diamonds available in mind-blowing shapes that are really hard to find. From Gold Hoop Diamond Earring to the Halo and Jacket based designs are tough to hold and not to buy. Thus, pay a visit to our store in Dallas and discover the Custom engagement rings in Dallas. Yes, we have got a perfect pair for your outfit. Finer Jewelry offers the elegance that you can wear with any outfit showcasing your personality with simplicity. And, for those who want more with the luxurious collection, we also have wedding bands in Dallas, because we know that the world is changing and so are the preferences of our users. Our experts designed so efficiently and elegantly, that all gems speak a universal language of unity. Come to our store and buy tinkering earrings that are sure to melt your heart.
Bracelets
Have you ever gifted a bracelet to your better half? After all, it's a beautiful addition to your wrist that gives a dazzling impression whenever you wear it. At Finer Jewelry, we have distinctive sapphire bracelets, a splendid collection of diamond tennis bracelets, and purely delicate silver bracelets that uplift your value with the majestic shapes. Our vibrant artisans are innovative at heart and present you with the traditional to the multi-row diamond bracelets with a touch of simplicity. With these evergreen bracelets, you can also gift her the Custom engagement rings in Dallas from our special collection. In fact, our men's collection is truly outrageous and incomparable. You can visit our store and discover the invaluable designs for Custom jewelry in Dallas. These bracelets are certified and quality refined presenting us the art of purity which we all should maintain in our relationships. Every stone is tightly fitted and polished, that is going to last forever, just like your bond with the loved one. Also, if you want something new and creative with the color stone, we can still help you here. Our designers craft one step ahead of the trend and thus, gives you full freedom to select the stone, shape, style and color of your choice. Thus, visit our store and get the best of all diamond collections in one place.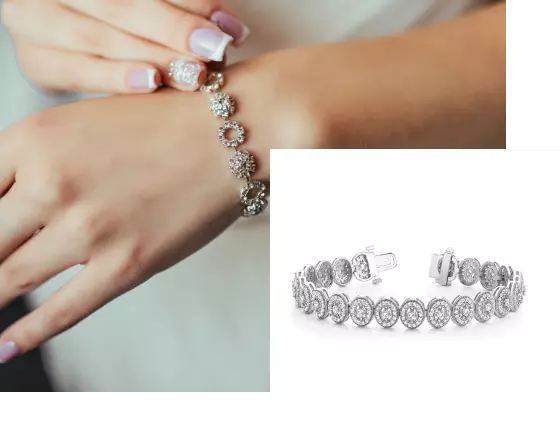 Necklaces
Necklaces are the real ornaments that uplift the beauty of the women reflecting status, elegance and power. The fully covered necklace to a simple pendant design is truly rolling the classy impression during the wedding season, special occasion or for daily wear. We have a plethora of collections for necklaces as well that makes you gorgeous and exceptional in any event. Our designs are specially designed keeping in mind the latest fashion trend and the upcoming bandwagon. You can visit our shop for Custom engagement rings in Dallas and neck pieces that commensurate naturally. We have smart designers and experts who know the designing principles and master the art of balancing the jewelry and neck piece that reflects the most splendid touch of professionalism. They keep on innovating and experimenting with the vintage and traditional look to bring out something from the origin that's really natural and outlandish. Besides that, we know, the right length of the necklace and have a clear understanding of what will suit your neckline the most. So, if you ever feel confused as to what to wear to any particular event, walk in our store and we will surprise you with the most breathtaking collection ever. Finer jewelry is the one trusted place, when it comes to shop for diamonds. Visit the store in Dallas and get your wife the most beautiful present ever.
I was gifted diamonds from my mother and both grandmother's wedding rings and I wanted to make my own wedding ring with them. I was able to schedule an appointment the following day and began working on the ring design. They were so thorough in making sure the fit and design was just right by making 3D imaging and wax molds for you to see before the ring is actually made. The whole process took about a month from start to finish and you can't beat the price! I'm beyond happy with what they made for me. It's truly something special.
After sharing our diamond CCC wish list with Shimon we sat back and waited. Shimon took us seriously and carefully watched the exchanges for "our stone". He found us a nearly flawless diamond that presented 30% larger than its weight! We then asked Shimon to craft a setting that required specially cut supplemental diamonds. Shimon's relationships with diamond cutters and his goldsmith made it possible for him to deliver our dream setting with our own "hope" diamond! Shimon is personable, very fun to work with and completely transparent. He and his stones are priceless!
Woody Marshall
November 20, 2021.
Shimon has the best stones!
Deanna Hunt
November 4, 2021.
Amazing experience. My favorite diamond jeweler in Scottsdale. A custom experience, fair prices, honest, top quality. What more can I say!
Collin Edwards
November 4, 2021.
What makes Finer Jewelry stand out is beautiful jewelry paired with top notch customer service. We worked with Shimon to design a custom engagement ring, first choosing our stone and then creating its setting. Throughout the process Shimon was upfront, friendly, knowledgeable but above all incredibly genuine. He truly shows he cares about his customers - their relationship and not just their business. Cannot recommend Shimon and Finer Jewelry highly enough.
Emily Petrocy
November 3, 2021.
I came to Shimon with a bit of a weird situation. I had a stone and wasn't sure if I wanted to sell it or make it into a ring to keep for myself. Shimon listened very well and helped me talk through my options. I ultimately decided to keep the stone and he helped me design the most beautiful ring. I was very happy with the entire process. Every time we met, Shimon always took time to listen and make personal connection. I would 100% recommend him and hope I have a reason to work with him again!
Christina Amburgy
September 10, 2021.
Shimon was absolutely amazing with helping me consign my jewelry. After several months of researching and struggling to find a legitimate buyer, it took less than 6 hours for me to have a stress free sale with him. He was honest and fair and extremely helpful. I will definitely be coming back for any purchases I have in the future! Thank you Shimon!
Candace Hagerman
September 8, 2021.
Shimon did an amazing job understanding what I wanted in my ring. After picking out my main stone he found two that perfectly coordinated. It turned out so much more than I hoped. Will definitely recommend and return.
Michael M
August 27, 2021.
We had a great experience! The ring came out perfect!
Robbie Burton
August 4, 2021.
I found the staff to be more than happy to assist in the design and creation of a true family heirloom. The process of collaboration with this jeweler was such a joy. Me and my family will treasure this for a lifetime. Thank you so much. A truly happy customer.