Custom Jewelry In Scottsdale
Find the Most Brilliantly Shaped Jewelry and diamond rings in Scottsdale. Adore the ethnicity of Custom jewelry in Scottsdale with Finer Jewelry.
Explore Our Collection
Our Exotic Collections Of Custom Jewelry In Scottsdale Reveals The Beauty Of Stone And Elevates Your Personality With The Best Of All Designs And Shapes. Visit Our Store To Discover The Breakthrough!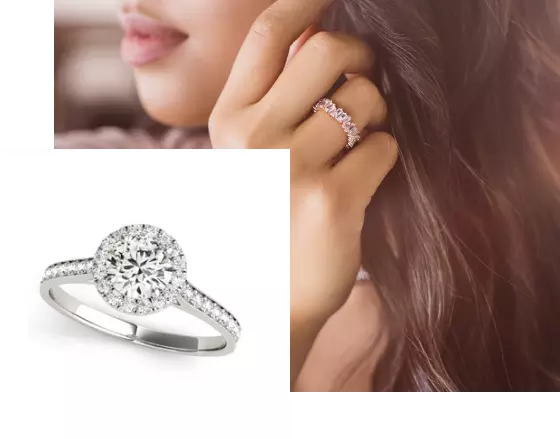 Engagement Rings
Engagement Rings are the beginning towards the Forever Bond that fuels trust, love and understanding with all heart and soul. It holds a precious touch of togetherness that binds you into a pure relation, and dazzles your fingers and overall look. Buying the custom engagement rings will definitely make you feel nostalgic. So, if you love someone truly and really want to express all your feelings, visit our engagement ring stores in Scottsdale. Here, you will get the best and most luxurious collection to express yourself who is so precious for you whom you never want to lose. So, surprise your future-mate with the ever-lasting pieces of Engagement Rings in Scottsdale, because we know, your bond is ethereal. At Finer Jewelry , we offer brilliant pieces in various colors and shades that reflect your true love story. You can go for Solitaire – The Timeless Gem, Three Stones – The accentuating design, Single Row- Tied in stones and Halo – An extra sparkle. We keep on innovating our collection with the most trending items that give you newer ideas to buy the best one, for your loved one. Also, our experts can help you to select the type of metal – Platinum, White Gold, Rose Gold or Yellow Gold. We know your bond is super unique and thus, our engagement ring stores in Scottsdale will totally stun you with such mesmerising collections. Our experienced designers and artisans will help you craft and create a Custom engagement rings in Scottsdale. So, don't wait for more. This is the right moment to turn your lifetime of friendship into an unconditional relationship.
Wedding Rings And Bands
What's your special moment attached with the wedding? Did you look at the wedding ring? Well, wedding rings and bands have always been the cornerstone in reminding you of the love you shared and promises you made. Through years and years, it still makes you fall in love with your better half, more and more just by looking at the wedding ring. So, if you want to give something special to your soul mate during your first anniversary or silver Jubilee or Golden Jubilee, visit our store for the best diamond rings in Scottsdale. Cherish those happily married days with our vibrant collection of wedding bands.
At Finer Jewelry , you can shop by style like Channel Set Rings, Eternity Rings, Infinity Rings and more. We have fancy shapes and beautiful gems that make you look different from the crowd and that's the speciality of us. Every gem and every metal are thoroughly tested, meeting the quality benchmarks because we can never compromise over quality. So, to give the best present to your Forever, visit our studio and explore the latest collections of wedding bands in Scottsdale that will symbolize your trusted bold.
We have been serving this industry for thirty years and more and have attained the highest grade of goodwill in delivering a remarkable product all across the globe. With a qualified team of designers, we create masterpieces for you and make you look as beautiful as you are from inside and outside. Our every gem will work as an add-on beauty to your natural glow with the most alluring Custom jewelry in Scottsdale.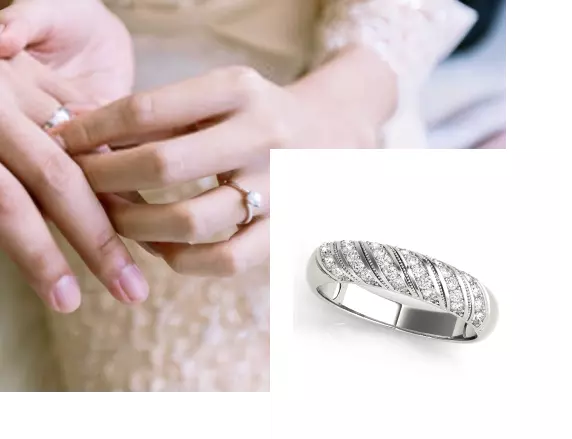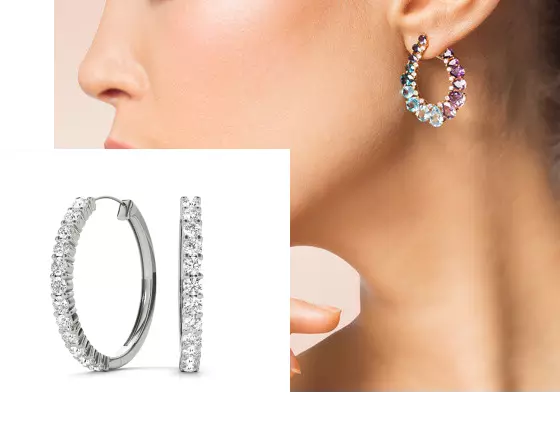 Earrings
Do you want to surprise your better half with the Custom jewelry in Scottsdale? So, the best thing you can do is get her the most majestic pair of earrings. This will brighten up her mood. At Finer Jewelry, we have a wider range of earrings that would go perfectly with your outfit. You can select and wear them as per the occasion, because we are on a mission to make you look unique and extraordinary. We also have classic ranges of diamond rings to flaunt to your overall look with our fashion ready accessory collection.
With the most majestic designs and outrageous shapes, we know how to brighten up your moment with the daily new and occasional wears. Jewels have no boundaries and so our creativity. We keep on sketching new designs with new ideas aiming to deliver a splendid impression to the wearer enhancing their personality impressively. Along with the acoustic earrings, we also have the most-awaiting collection of Engagement Rings in Scottsdale that would go perfect on your D-Day with the matching outfit.
Just as action speaks louder than words, take your time and visit our stores to buy for the best and most desirable look. Our engagement ring stores in Scottsdale manages a wider catalogue including the fashion diva earrings to any Custom jewelry, embellishing your complete look from tip to toe. So, let's take out the boldest in you and buy your earrings for self-gifting, because you are really special for yourself first. And there's no special moment to celebrate such a thing. Earrings are the best piece you can give yourself.
Bracelets
The New Year is on the way, so how would you welcome the new beginning? Have you thought of something special? Let's take a resolution to care for yourself a little more, no matter what, above everything, everyone. Let's give your soft and gentle cuffs, the most delicate bracelets, remembering the moment when you choose yourself above all.
We have all sorts of catalogue from color stones to traditional and multi row diamond bracelets that uplift any outfit when it pops out. Have you tried any? This is one of the best accessories from our custom jewelry in Scottsdale giving a fashion statement for eternity. Visit our stores and flaunt this dangling ornament from your wrist just like never before. This is the most beautiful piece from modern day jewelry leaving an exotic impression when worn with any outfit.
Our designers have worked on every minute detail and left no scope of error that can take your impression at a toss. So when it comes to buying a perfectly embedded wedding ring in Scottsdale or a shining bracelet, you can definitely count on us. All our items are purity and clarity checks so you don't feel embraced while gifting to your close one. These are worth buying for the value you get. So, don't hesitate and visit our store to discover the infinite collections that you can ever get anywhere. Take a tour and you won't stop yourself from buying.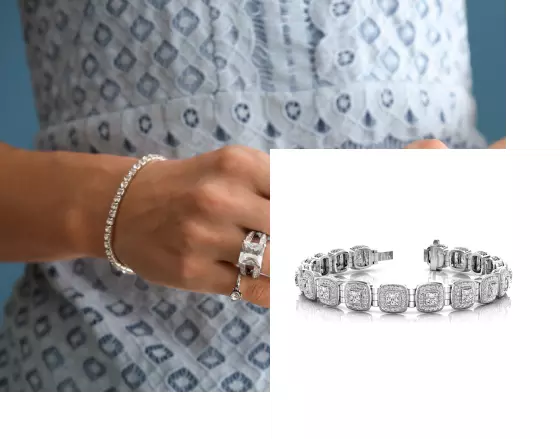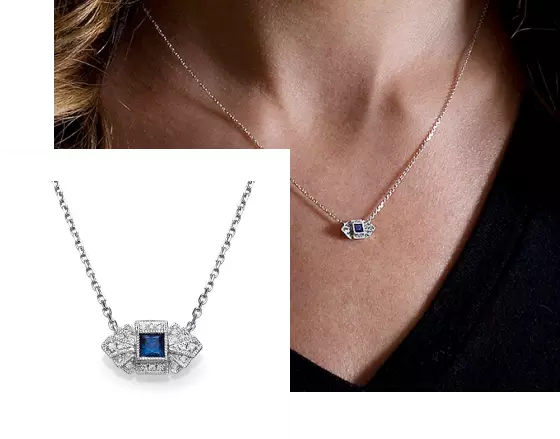 Necklaces
Necklaces are the most artistic decoration of your body that reflect wealth, power, status and elegance. From single stone to the neck covered patterns, these are really winning the hearts. And certainly, there's no comeback once you start exploring the majestic pieces at the Finer jewelry. Our pure diamond collection for necklaces is really hard to ignore. Check those pieces now before you miss out. Visit our store and shop from our breathtaking collection of Custom jewelry in Scottsdale, and accentuate your necklines with our most beautiful designs.
From pendant to eternity diamond necklace, we know your requirements and therefore, our vast collection would surely surprise you. Here, we are also open for customization where our experts would help you to select the best shape and designs for your necklines that go absolutely perfect with any assortment of women's outfits. From traditional to western and regular wear, we offer something stunning to every style so you shine like a diamond.
We believe jewels are the luxury of moments and when you wear them, it lifts your personality and makes you look really different from the crowd. Do you want to shine out in parties and wedding occasions? We have special collections for you because we wear fashion in every faucet. You can visit our store at Scottsdale and check out the most ever lasting collection designed as unique as you are!
I was gifted diamonds from my mother and both grandmother's wedding rings and I wanted to make my own wedding ring with them. I was able to schedule an appointment the following day and began working on the ring design. They were so thorough in making sure the fit and design was just right by making 3D imaging and wax molds for you to see before the ring is actually made. The whole process took about a month from start to finish and you can't beat the price! I'm beyond happy with what they made for me. It's truly something special.
After sharing our diamond CCC wish list with Shimon we sat back and waited. Shimon took us seriously and carefully watched the exchanges for "our stone". He found us a nearly flawless diamond that presented 30% larger than its weight! We then asked Shimon to craft a setting that required specially cut supplemental diamonds. Shimon's relationships with diamond cutters and his goldsmith made it possible for him to deliver our dream setting with our own "hope" diamond! Shimon is personable, very fun to work with and completely transparent. He and his stones are priceless!
Woody Marshall
November 20, 2021.
Shimon has the best stones!
Deanna Hunt
November 4, 2021.
Amazing experience. My favorite diamond jeweler in Scottsdale. A custom experience, fair prices, honest, top quality. What more can I say!
Collin Edwards
November 4, 2021.
What makes Finer Jewelry stand out is beautiful jewelry paired with top notch customer service. We worked with Shimon to design a custom engagement ring, first choosing our stone and then creating its setting. Throughout the process Shimon was upfront, friendly, knowledgeable but above all incredibly genuine. He truly shows he cares about his customers - their relationship and not just their business. Cannot recommend Shimon and Finer Jewelry highly enough.
Emily Petrocy
November 3, 2021.
I came to Shimon with a bit of a weird situation. I had a stone and wasn't sure if I wanted to sell it or make it into a ring to keep for myself. Shimon listened very well and helped me talk through my options. I ultimately decided to keep the stone and he helped me design the most beautiful ring. I was very happy with the entire process. Every time we met, Shimon always took time to listen and make personal connection. I would 100% recommend him and hope I have a reason to work with him again!
Christina Amburgy
September 10, 2021.
Shimon was absolutely amazing with helping me consign my jewelry. After several months of researching and struggling to find a legitimate buyer, it took less than 6 hours for me to have a stress free sale with him. He was honest and fair and extremely helpful. I will definitely be coming back for any purchases I have in the future! Thank you Shimon!
Candace Hagerman
September 8, 2021.
Shimon did an amazing job understanding what I wanted in my ring. After picking out my main stone he found two that perfectly coordinated. It turned out so much more than I hoped. Will definitely recommend and return.
Michael M
August 27, 2021.
We had a great experience! The ring came out perfect!
Robbie Burton
August 4, 2021.
I found the staff to be more than happy to assist in the design and creation of a true family heirloom. The process of collaboration with this jeweler was such a joy. Me and my family will treasure this for a lifetime. Thank you so much. A truly happy customer.