Custom Design Jewelry Shop Scottsdale
Find the most brilliantly shaped custom jewelry and diamond rings in Scottsdale Arizona with Finer Custom Jewelry.
Explore Our Collection
Our custom design jewelry shop in Scottsdale reveals the creative possibilities with your imagination being the only limit.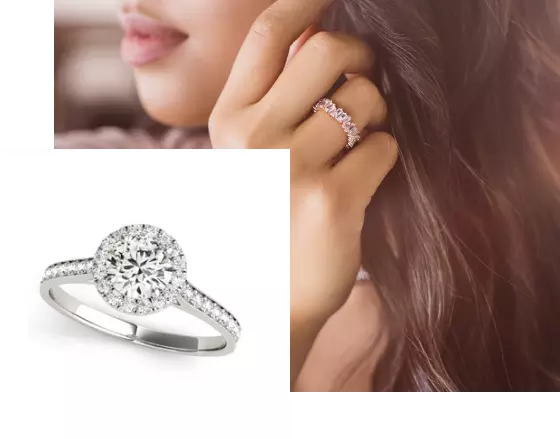 Custom Jewelers in Phoenix
Engagement rings symbolize the beginning of the forever bond that fuels trust, love and understanding. It holds a precious touch of togetherness that binds you into a pure relation, and dazzles your fingers and overall look. Buying a custom engagement ring will instill memories for years  So, if a dazzling engagement ring would help express your feelings of love and endearment, visit our custom jewelers in Phoenix.
So, surprise your future-mate with the ever-lasting impression of a custom engagement ring in Scottsdale, because we know, your bond is ethereal. At Finer Custom Jewelry , we offer brilliant pieces in various colors and shades that reflect your true love story. You can go for Solitaire – The Timeless Gem, Three Stones – The accentuating design, Single Row-Tied in stones and Halo – An extra sparkle. We continually innovate our collection with the current trending items that will serve as inspiration for your ideas to  create the perfect ring for your loved one.
Also, our experts can help you to select the perfect metal type – Platinum, White Gold, Rose Gold or Yellow Gold. We know your bond is super unique and thus, our engagement ring stores in Scottsdale will strive to stun with our mesmerizing collections. Our experienced designers and artisans will help you craft and create a custom engagement ring in our custom design jewelry shop in Scottsdale.
Wedding Rings And Bands
What's your special moment attached with the wedding? Did you look at the wedding ring? Well, wedding rings and bands have always been the cornerstone in reminding you of the love you share and promises you made. Through years and years, it will always serve as a reminder of falling in love with your other half.  So, if you want to give something special to your soul mate during your first anniversary, silver celebration or golden jubilee, visit our store for the best custom jewelers in Phoenix. Cherish those happily married days with our vibrant collection of wedding bands.
At Finer Custom Jewelry , you can shop by style eternity rings, infinity rings, halo rings and more. We have fancy shapes and beautiful gems that give you a unique look compared to the rest crowd and that's our specialty. Every gem  is fully inspected and every ring is thoroughly tested to ensure quality because we never compromise over quality.
Our designers have more than thirty years of collective experience serving the industry and strive to retain the highest grade of goodwill in delivering a remarkable product all across the globe. With our qualified team of designers, we create masterpieces for you and make you look as beautiful as you are from inside and outside. Every gem will work as an add-on beauty to your natural glow.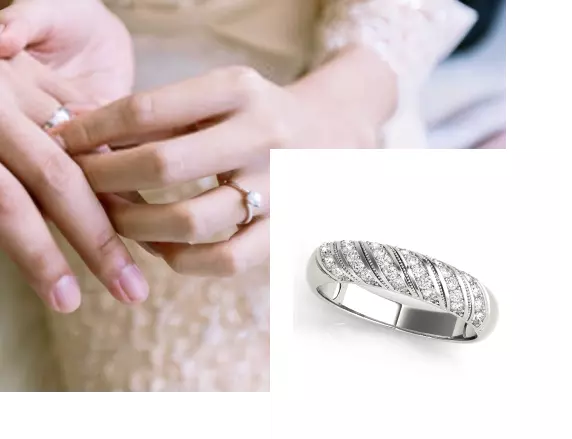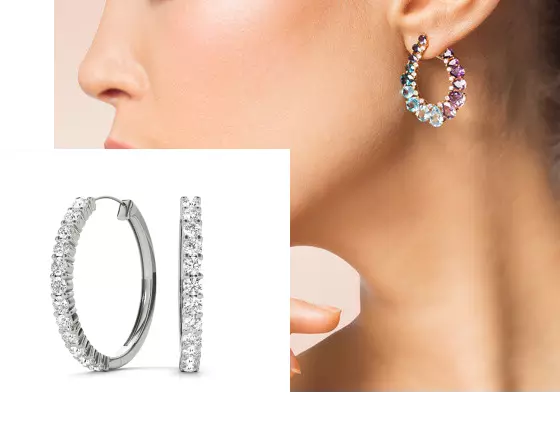 Earrings
At Finer Custom Jewelry, we have a wide range of earrings that would go perfectly with any outfit. You can select and wear them per  occasion, because we are on a mission to make you look unique and extraordinary. We also have classic ranges of diamond rings to flaunt to your overall look with our fashion ready accessory collection.
With the most majestic designs and comprehensive coverage of shapes, we know how to brighten up your moment with the daily new and occasional wears. Jewels have no boundaries and neither does  our creativity. We keep on sketching new designs with new ideas aiming to deliver a splendid impression to the wearer enhancing their personality.
Just as action speaks louder than words, take your time and visit our stores to find the best and most desirable look. Our custom jewelers in Phoenix manages a wide catalog ranging from full fashion diva earrings to any custom jewelry, embellishing your complete look from tip to toe. So, let's take out the boldest in you and buy your earrings for self-gifting, because self-love should always be at the top of your list, and there's no holiday to celebrate such a thing. Earrings or a custom ring are the best things you can give yourself.
Bracelets
The new year has started, so how are you welcoming the new beginning? Have you thought of something special? Take a resolution to care for yourself a little more, no matter what, above everything, everyone. Let's give your soft and gentle cuffs, the most delicate bracelets, remembering the moment when you choose yourself above all.
We have all sorts in our catalog from color stones to traditional and multi row diamond bracelets that uplift any outfit when it comes out. Have you tried any? This is some of the best accessories from our custom design jewelry shop in Scottsdale giving a fashion statement for eternity. Visit our store and flaunt this dangling ornament from your wrist like never before. This is the most beautiful piece from modern day jewelry leaving an exotic impression when worn with any outfit.
 Our designers have worked on every minute detail and left no stone unturned that can distract from your unrivaled brilliance. So when it comes to buying a perfectly embedded wedding ring in Scottsdale or a shining bracelet, you can definitely count on us. All our items are purity and clarity checked so you don't feel embarrassed while gifting to your close one. We ensure top value for any item that you purchase through us. So, don't hesitate and visit our store to discover the infinite possibilities.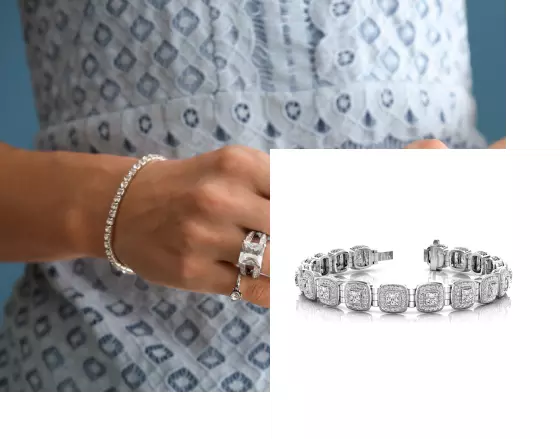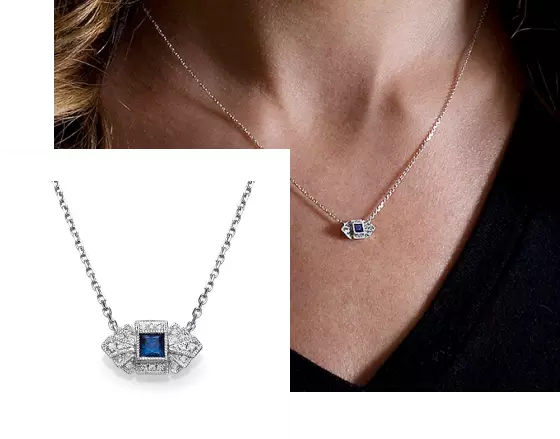 Necklaces
Necklaces are one of the most artistic decorations you can wear that reflect wealth, power, status and elegance. From solitaire stone to full neck covered patterns, we have many great styles to either stand out in a crowd or to simply accentuate an outfit. Once you've browsed our selection you will see there's no need to go anywhere else.  Check those pieces now before you miss out. Visit our store and shop from our breathtaking collection custom design jewelry shop in Scottsdale, and accentuate your necklines with our most beautiful designs.
From pendants to eternity diamond necklaces, we can fit your needs. Here, we are also open for customization where our experts would help you to select the best shape and designs for your necklines that go absolutely perfect with any assortment of outfits. From traditional to western and regular wear, we offer something stunning to every style so you shine like a diamond.