Styling Platinum Jewelry for a Sophisticated Look
Platinum jewelry is renowned for its enduring beauty and resilience. Whether you desire a subtle touch or a bold statement, platinum jewelry offers limitless possibilities.
This article will explore various ways to style platinum jewelry and how it can enhance your overall appearance. One important factor when styling platinum jewelry is finding pieces that make you feel beautiful. There is no right or wrong way to wear platinum; trust your personal style and preferences. Begin by seeking pieces that complement your existing collection of jewelry. For instance, pair a platinum necklace with a matching bracelet or earrings.
Experiment with different combinations to discover what looks best on you and instills confidence. A platinum necklace is a versatile piece that effortlessly transitions from day to night. Notably, it can be worn with casual attire such as a white t-shirt and jeans, or dressed up with a black suit for more formal occasions. The radiance and elegance of a platinum necklace bring an enchanting touch to any ensemble. Complementing any color of clothing, opt for a necklace that matches your outfit or creates contrast to make a statement.
Choosing Bracelets with Timeless Designs
When selecting bracelets, opt for clean lines and timeless designs. Simple yet elegant platinum bracelets are ideal for everyday wear and can be effortlessly paired with any outfit. These bracelets tend to retain their value over time, making them an intelligent investment choice. The minimalist design of platinum bracelets adds sophistication to your overall appearance.
Embrace the Timelessness of Hoop Earrings
For those seeking attention-grabbing accessories, consider choosing a pair of platinum hoop earrings. Hoops can function as standalone statement pieces or enhancers for your attire. They are timeless additions to any ensemble and perfectly complemented by pairing them with a platinum rope chain. Platinum's lightweight nature ensures comfort when wearing earrings, making it an ideal choice.
Elevate Your Look with a Sophisticated Brooch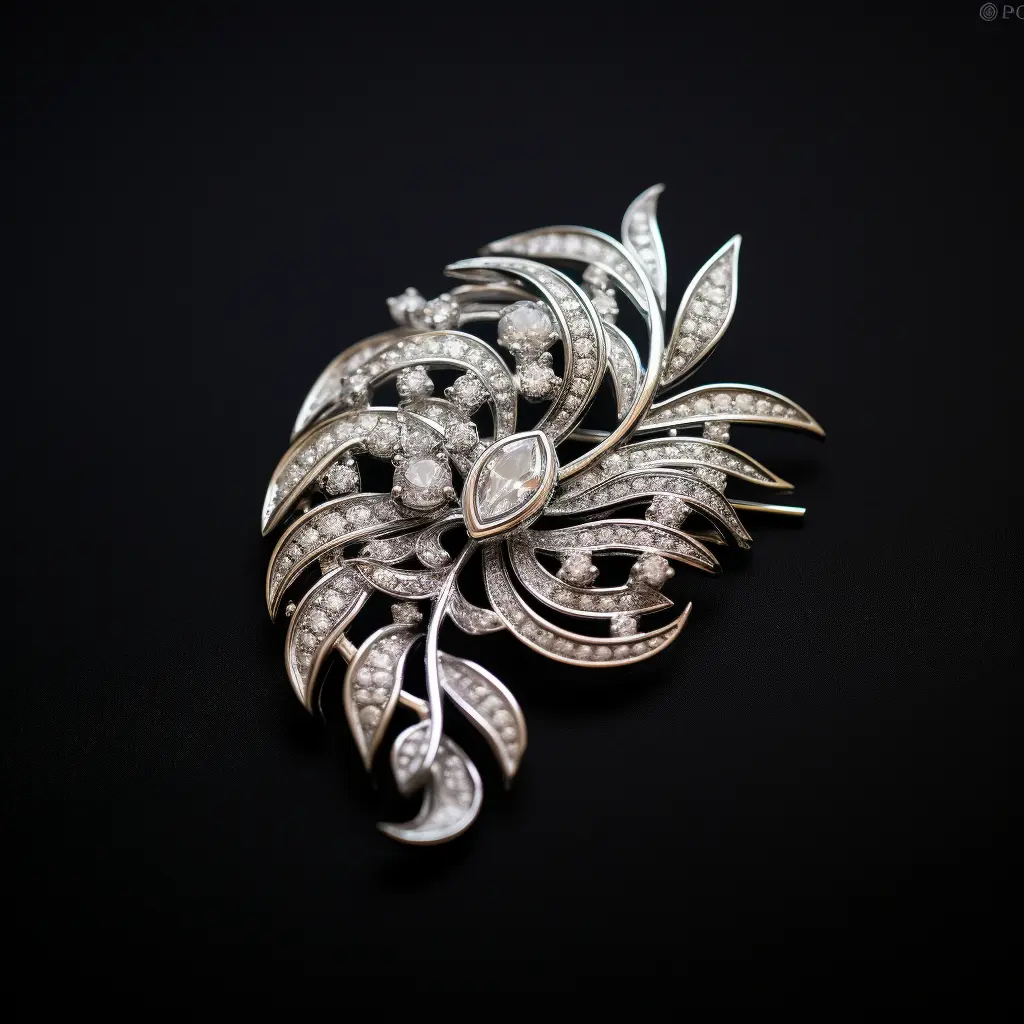 Brooches are versatile accessories capable of elevating any outfit. Adding one to your collection of platinum jewelry creates an elegant and sophisticated look. For those seeking an accompanying brooch to complete their platinum cable chains or flat bands look, simplicity is key in design selection to ensure harmonious balance without overpowering the overall jewelry ensemble. Opting for a brooch adorned with diamonds or other precious stones will provide subtle elegance without overshadowing the platinum focal point. Meanwhile, ensuring your manicure coordinates aptly adds subtle yet significant accentuation towards enhancing the beauty inherent within your carefully crafted platinum ring set.
Effortlessly Showcase Platinum Jewelry with Classic Black Attire
Classic black attire remains a time-honored choice when it comes to stylishly showcasing platinum jewelry as the contrasting elements create an exquisite and timeless sophistication admired by many celebrities throughout history for its consistently fashionable appeal across generations. Diamond studs serve as essential elements within any fine jewelry collection; their inclusion complemented by pairing them alongside a pendant necklace artfully elevates one's appearance with added touches of luxuriousness accentuated through shiny voluptuous links adorning one's neck while authentically embracing timeless elegance exuding an aura of confident femininity. Incorporating statement rings tastefully contributes just enough sparkle necessary without overwhelming one's outfit choices enabling minimalist fashion enthusiasts heightened freedom displaying their personal style aesthetic adding complimentary visual flair when tastefully juxtaposed against flat-edged bands creatively enhancing that perfect blend between understated simplicity and reserved elegance suitable for everyday wearability fitting for all occasions. Of course, it would be remiss not to mention the perennial charm of diamond bracelets when it comes to platinum jewelry aficionados searching for refined sophistication. The interplay between diamonds and platinum creates an exceptional visual impact resulting in stunning elegance. While wearing diamond bracelets alongside statement pieces can achieve striking effects, maturing one's style choices by electing for a more simplistic approach when selecting additional accessories ensures a harmonious overall presentation of one's appearance where every element contributes optimally towards the final aesthetic impression.
Create Unique Combinations with Stackable Rings
As you explore the intriguing world of pairing stackable rings, let your inner boldness shine through with unapologetic confidence. This current trend allows you to create unique combinations using different metals and designs that highlight your distinct personality and style preferences. Enhance your personal style by wearing multiple platinum rings on both hands, creating a unique and fierce look. Ensure a balanced appearance by carefully balancing the rings on each hand. When stacking rings on the same hand, remember to space them out evenly to avoid overwhelming your outfit.
Add a Burst of Color to Your Platinum Jewelry Collection
To infuse a burst of color into your platinum jewelry collection, experiment with vibrant shades. Make a bold fashion statement by pairing platinum jewelry with emerald green tops or sunshine yellow trousers. For a more playful and vibrant look, wear your platinum accessories with rainbow-hued items. This combination of platinum and vibrant colors creates an eye-catching contrast that is sure to turn heads. When styling simple outfits, create contrast by pairing your platinum jewelry with dark-colored items such as black or navy blue earrings. On the other hand, if you're donning something colorful, opt for neutral pieces like white gold and diamonds to maintain balance and allow your platinum jewelry to truly shine.
Express Your Personal Style with Finer Custom Jewelry
In conclusion, expressing your personal style and feeling confident through styling platinum jewelry is key. Whether you prefer minimalistic designs or statement pieces, adding platinum accessories adds an elegant touch to any ensemble. Finer Custom Jewelry offers a wide range of designs and styles for necklaces, bracelets, earrings, and rings that cater to every taste and are sure to enhance your wardrobe while reflecting your unique personality.