The 8 Best Solitaire Engagement Rings for 2021
When it comes time to choose the perfect engagement ring for your partner, it can be an intimidating choice. But luckily, there is one engagement ring style that is classic and timeless: solitaire engagement rings. A solitaire-style ring features a single diamond that shines at the center, allowing it to sparkle and shine as the main focus of the design. No matter the cut, size, or metal of solitaire engagement rings, they are a breathtaking piece to symbolize your love.
Diamonds are eternally modern, which means that solitaire rings are as well. Learn more about the different popular solitaire engagement ring styles, and decide which one best suits you or your partner.
TRADITIONAL SOLITAIRE RINGS
Round Brilliant
There is nothing more classic than a round brilliant diamond engagement ring. In this style, a round brilliant diamond is set above the band, allowing it to catch the light in a refined and luxurious way. Available in many different metals and band styles, the round solitaire ring is the ideal choice for someone with traditional tastes—and that's also why it's one of the most popular diamond cuts for engagement rings.
Oval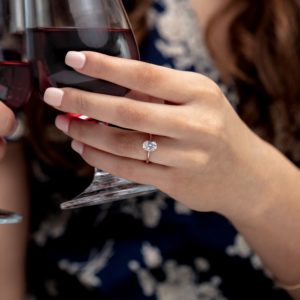 Similar to a round brilliant ring, oval-cut solitaire rings a classic and traditional choice. The oval shape provides a subtle twist to the more common round diamond—without sacrificing elegance or sophistication. The elongated shape of the oval is also said to help give a more slender and delicate appearance for fingers.
Cushion-Cut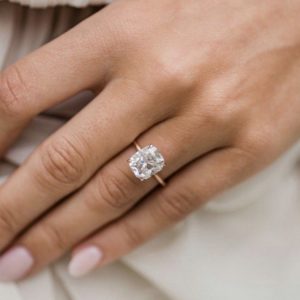 Cushion-cut diamonds are a unique combination of princess-cut and round brilliant diamonds. This style gets its name from its shape—from above, the stone looks square with rounded edges, just like a cushion. This time-honored cut is a modern evolution of the older mine cut, lending the shape a timeless feel. Unlike most diamonds, cushion-cut styles can be faceted in two different ways, offering more variety: Modified cushion-cut stones have more facets than most diamonds, while a traditional cushion-cut is faceted more like a round brilliant diamond.
MODERN SOLITAIRE RINGS
Princess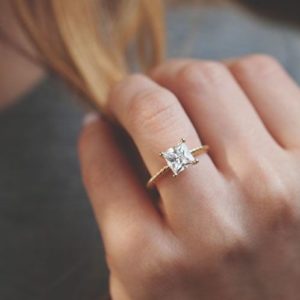 When viewed from above, princess-cut diamonds have a square shape that shines with unmatched brilliance. Thanks to the inverted pyramid cut of the stone, princess-cut diamonds are a popular choice for their impressive sparkle. The second-most popular diamond shape for engagement rings next to round brilliant diamonds, princess-cut is a breathtaking choice for a solitaire ring.
Radiant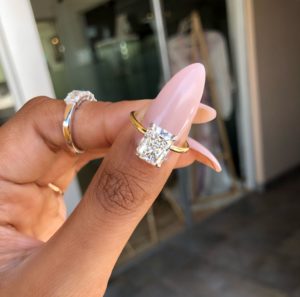 The radiant-cut diamond was first created in 1977—making it a relatively recent addition to the world of diamond cuts. Drawing inspiration from both emerald-cut and round brilliant diamonds, radiant-cut stones have 70 facets. This gives the diamond cut an amazing radiance, sparkle, and fire. Radiant-cut diamonds also feature beveled corners, giving the round or rectangular shape an unexpected twist and resulting in a final octagonal shape—which also makes them more durable than other square or rectangular cuts.
VINTAGE-INSPIRED SOLITAIRE RINGS
Emerald
Unlike most diamonds, emerald-cut stones are cut with rectangular facets. These unique, parallel facets give the stone an art-deco effect, adding the perfect vintage flair. Because of the unusual step-cut style, emerald-cut diamonds don't tend to sparkle like round cuts—but that doesn't make them any less beautiful. When cut with precision, emerald-cut diamonds have a mirror-like appearance that produces a beautiful internal glow.
Pear-Shaped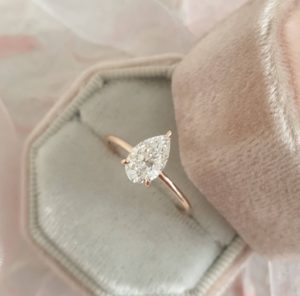 Pear-shaped diamonds are shaped like a teardrop, with a rounded, wider end that narrows to a single point on the opposite side. This exquisite cut is unique because of its asymmetry. To pick a pear-shaped solitaire ring that is both flattering on the finger and also produces the ultimate sparkle, choose a stone that has a length-to-width ratio between 1.50 and 1.75.
Baguette
Similar to emerald-cut diamonds, baguette diamonds are rectangular shaped and step-cut. Baguette diamonds, however, only have 14 facets compared to over 50 for emerald-cut stones. Typically more elongated than an emerald-cut, baguette diamonds are rarely used in solitaire engagement rings, making them a unique and meaningful statement piece. 
Find Your Perfect Cut with Finer Jewelry
Choosing the right cut for your solitaire engagement ring is a big decision. And at Finer Custom Jewelry, we have decades' worth of experience to help you pick the right cut, size, and every other detail to create the perfect engagement ring. By working closely with our customers, we will help you bring your design vision to life and craft the ring of your dreams. 
Finer Jewelry is changing how people shop for diamonds. In intimate private appointments, we'll help educate you on the diamond facts your need to know, help you choose the perfect GIA-certified diamond, and then select every other design detail to create any type of ring—from vintage to solitaire to infinity bands—for that special person in your life. Contact our team today to get started.