How To Buy Wholesale Diamonds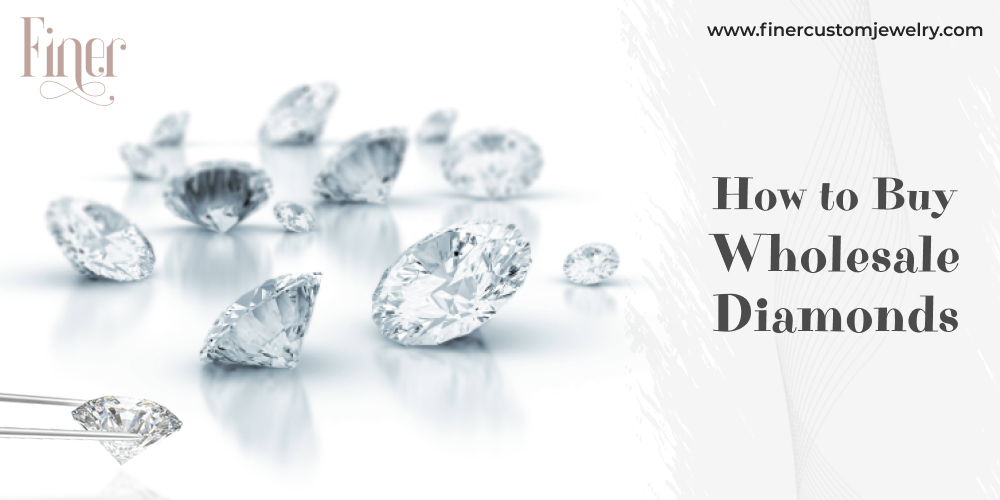 Diamonds are the most admired stones, and everyone cherishes diamond jewelry. Are you excited and keen to design your jewelry but searching for excellent diamonds? If you are planning to buy diamonds at an affordable price, then buy wholesale diamonds in Scottsdale, Arizona from Finer Jewelry.
It is always amazing to have your own designed piece of jewelry that has your favorite diamonds. 
What are wholesale diamonds?
A diamond wholesaler is someone who sells wholesale diamonds. Basically, he purchases diamonds in bulk and secures a deep discount for quantity. So for loose diamonds, you need to connect with a wholesaler.
We are proud to provide a wide range of loose diamonds in Scottsdale Arizona at Finer Jewelry.
Wholesale diamonds with certification:
For your unique jewelry, if you are planning to choose a wholesale diamond, which means you are getting the best quality for the price you pay.
Whether you are buying loose diamonds or already crafted wholesale diamond jewelry, you should know if you are buying quality diamonds or not. So, always check on the certification. At Finer Jewelry, you will get the loose wholesale diamonds with proper certification. These certifications have a unique identification number which can further be verified by GIA through its website.
Benefits of buying wholesale diamonds:
Now you have an exact idea of wholesale diamonds, let's consider the benefits of buying them. 
The first and essential benefit is that you can have the specific cut, shape, carat weight, and color of a diamond, as desired. 
You can creatively create a design of your dreams for your beloved person. 
One can have wholesale diamonds at a discounted price, so they are affordable.
There is satisfaction in quality, as you precisely get what you have paid for. 
You can gift a beautiful loose diamond.
Along with loose diamonds in Scottsdale, from Finer Jewelry, you can buy customized jewelry, earrings, necklaces, bracelets, bridal jewelry, lab grown diamonds, and more. 
One of the huge benefits of buying a wholesale diamond from Finer Jewelry is that you can buy a diamond and get it fitted in your customized setting under the same roof. So, enjoy hassle-free shopping of wholesale diamonds in Scottsdale at Finer Jewelry. 

Two C's and two S's to follow while going to buy wholesale diamonds:
Choose your shape 
Check your budget 
Safety of your diamond
Set to go 
Choose your shape:
The first step towards buying your desired stone is to choose the shape. A brilliant round shape is a classic one we can find in most solitaire rings. You can choose from ideal heart and arrows diamond, princess cut, emerald cut, oval, cushion, or many more. 
(Note: Brilliant round cut diamonds is the most expensive one, you can save up to 20% if you go for some other cut) 
Check your budget:
The next stop for buying wholesale diamonds is to fix your budget. People set their budget in thousands for loose diamonds so you can fix yours. 
At this point, also start scrutinizing the 4C's of a diamond, pricing per carat weight, and all other facets like fluorescence, ideal proportions, inclusions (birthmarks) of diamonds.
Safety of your diamonds:
Keep your diamonds safe, along with the grading details. Store it in a box full of foam so that it can hold diamonds and not let them rattle. Do not wrap a loose diamond in a twisted paper or cotton and then keep it in the box, as there are stories of accidentally throwing it. 
Set to go:
Now it's time to set your preferred loose diamond in the setting of a piece of jewelry you loved. Then you are all set to surprise your loved one with loose diamond jewelry. Or you can solely gift him/her loose diamonds. 
If you are looking for lab grown diamonds in Scottsdale, then also you are in the right spot. Finer Custom Jewelry makes it easy for you to purchase wholesale diamonds in Scottsdale, as we sell them with certification. Also, you can choose the right setting, right diamond, and right piece of jewelry under the same roof.
Enjoy shopping and creating your own designer jewelry at Finer Custom Jewelry.  Contact Us Today!