Sakura Diamond Sells for $29 Million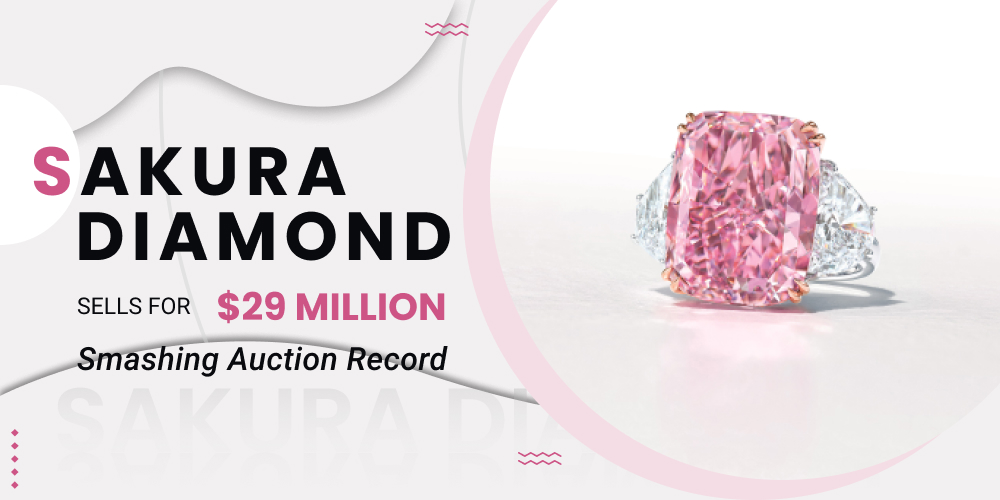 One Of The Most Expensive Pink Diamond In The World
A purple-pink diamond sold for $29 million in Hong Kong, setting a new record for the highest ever auctioned. It is one of the most beautiful pink diamonds. 
According to Christie's, which hosted the deal, "The Sakura" is the Japanese term for cherry blossom, and it's a 15.8-carat purple-pink diamond centered on a platinum and gold band. The Sakura Diamond, like the pink diamonds, is a Fancy Vivid gem and is the highest grade given to colored diamonds with dazzling saturation. But what sets it apart is its much more unusual color: a pink with purple undertones that closely resembles the petals of cherry blossom (or, in Japanese, "sakura") flowers.
The Sakura Diamond, like other natural pink diamonds, gets its color from a distortion of its molecular lattice — a spontaneous effect that happens in less than 2% of all diamonds on the planet. And the Sakura Diamond isn't just rare; it's also clear.
Because of the depth of pink color, the diamond is classified as fancy vivid. It is also internally flawless, which means it has no visible inclusions. In another language, we can say it is crystal clear. Christie's reported that "The Sakura" was purchased by an Asian private buyer on Sunday.
This Fancy pink diamond ring has all our hearts. For fancy colored diamonds, you can visit Finer Jewelry and buy a diamond. At Finer Jewelry, you can also go for custom jewelry to surprise your partner.
"The Sakura" was auctioned alongside "The Sweet Heart," a $6.6 million 4.2-carat fancy bright heart-shaped pink diamond ring.
In a statement on Christie's website, Vickie Sek, chairman of Christie's Asia-Pacific department of jewelry, stated that the "high sell-through rates and outstanding prices obtained for high quality polished diamonds and gemstones represent a robust consumer demand."
Before the deal, Sek said over the phone interview that the stone is "exactly" the color of cherry blossom. According to her, pink diamonds are "very rare" to be graded as internally flawless since they usually have "a lot of graining."
The gemstone's size made it a rare discovery as well, with Christie's noticing that only about 10% of pink diamonds weigh more than 0.2 carats.
"The Sakura" broke the previous record held by "The Spirit of the Rose," a 14.8-carat purple-pink diamond that sold for more than $27 million at a Sotheby's auction in Geneva, Switzerland, in November. Just 1% of pink diamonds are said to be bigger than 10 carats, and only 4% are rated fancy vivid.
All of this adds up to a mythical-sized gemstone. "This incredibly rare and majestic natural marvel would certainly grab the hearts of discerning connoisseurs and collectors around the world," said Vickie Sek, Chairman of Christie's Jewelry Asia.