10 Picture-Perfect Hairstyles to Go With Your Diamond Earrings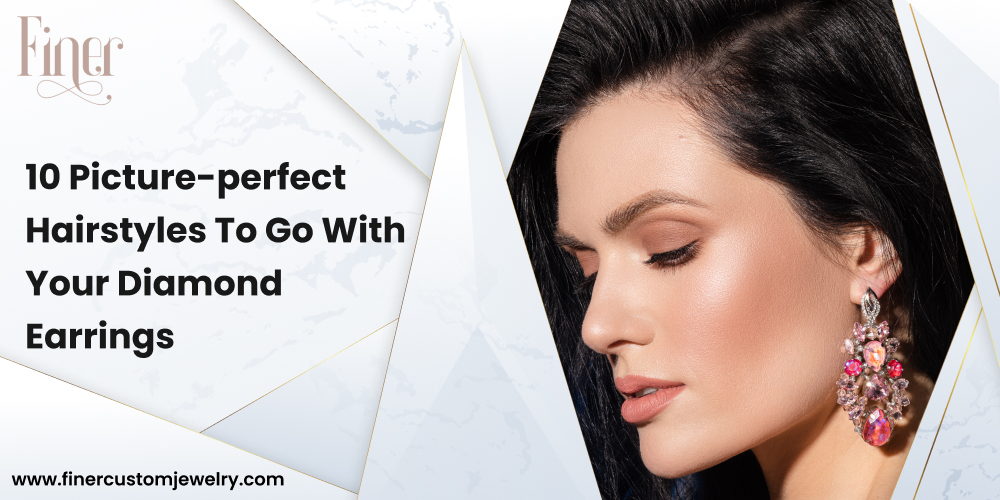 Forget the shoes or the bags. When you stand in front of the mirror, it is you, your hair, and, of course, your diamond earrings!
When you want to show the world your beautiful ear candies, a perfect hairstyle can instantly accentuate your looks. You wouldn't want an unflattering hairdo to play spoilsport and ruin the gorgeous diamond pairs. So, to avoid such heartbreaks, we will find out which hairstyles are the best to wear with your diamond earrings.
 
10 picture-perfect hairstyles to go with your diamond earrings
Stylish diamond earrings not only draw attention to your face but also complement your hairstyle. So, match your hairstyles and earrings and get people to stare at you and no one else! 
1. Sleek ponytail
        The pulled-back ponytail is a no-nonsense look, and you can match any diamond earring with it. The diamond studs, hoop earrings, danglers, or drops make you look simple but add extra sparkle to your earrings. You can match your high ponytail with large statement earrings like the chandeliers and the danglers. The stud looks best with a low ponytail.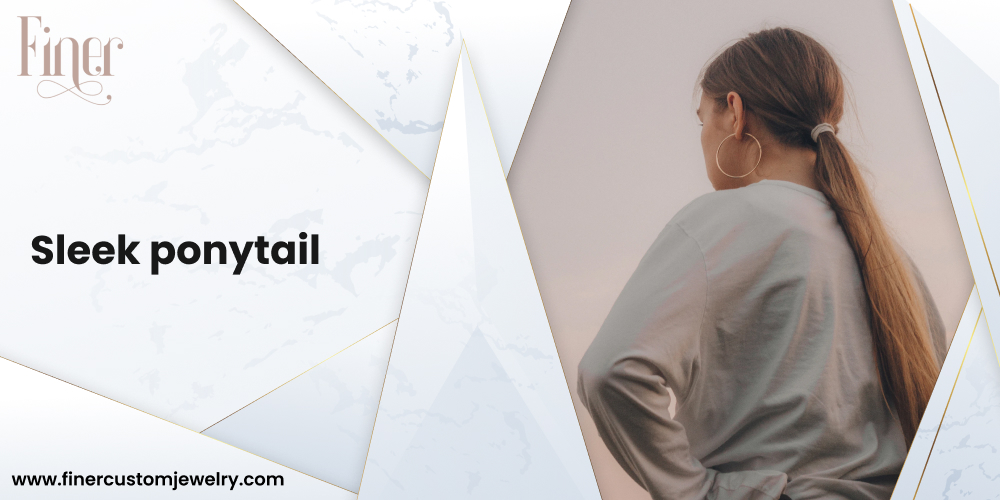 2. Soft curly hair
Does your curly hair act as a spoilsport for your diamond earrings? Women with curly hair can go for hoop diamond pairs. You can easily tame your curls with the hoop diamond earrings, and your looks get accentuated several notches with these. And if you don't want to risk tangling your hair, you can play it safe with a pair of studs.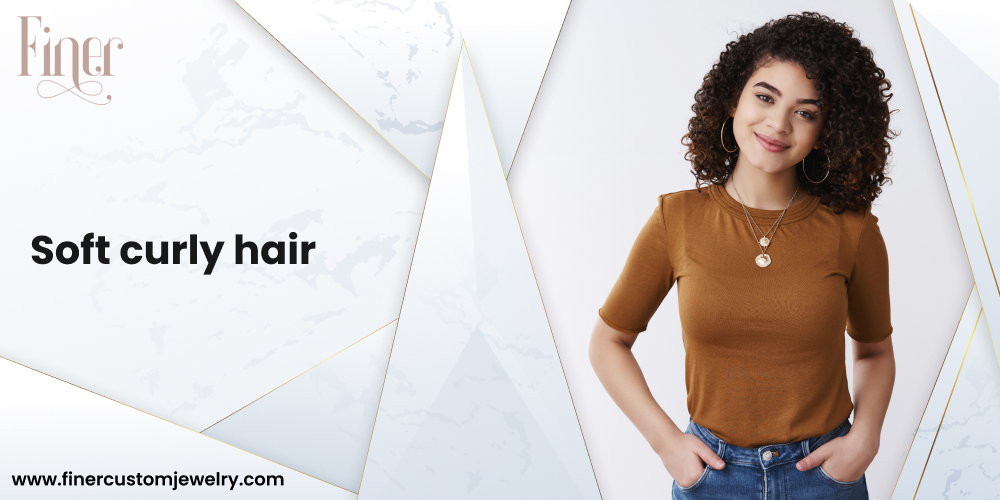 3. Carefree braid plait 
Are you confused about the hairstyle for your favorite drop earrings? Fret not! Why not try the ethereal braid hairstyle? It looks so romantic to make your partner fall in love with you all over again. You can also style a pair of modern hoops or drops with the side braid. If you want to keep it simple, opt for diamond solitaire studs.
4. Favorite top bun
A favorite for the warm weather, the top bun works like a charm when you have a bad hair day. Not to forget the gorgeous women who have been slaying the red carpet and showing us different ways to flaunt a bun! We would opt for literally any diamond earrings for the bun hairstyle. The chandelier earrings or the stud, the ear cuff pair, or the danglers- you can pair any of your favorite diamond earrings with the top knot. It presents you with a chance to flaunt the sparkle of your diamond earrings.
5. Breezy side sweep
Balance the asymmetrical look with a long pair of diamond earrings like the danglers or the chandeliers. They perfectly match the classic hairstyle. Also, diamond earrings with colored gemstones make an impeccable style statement. Elevate your look by wearing stunning earrings that look dazzling from all sides. It is a perfect opportunity to increase your glamor quotient. 

6. Glam loose tresses
The untied look is the easiest and classiest hairstyle. You can opt for the diamond studs to go with this look. Do not use an excess style in earrings like the chandeliers or the danglers. It ruins your style, and anyways, your earrings are not visible when you sport the untied look. You can also go with the classic hoops to help you look more striking! 
7. Elegant chignon/up-do hairstyle
The up-do hairstyle is a low bun or a knot. A pair of subtle drop earrings perfectly fit the sophisticated hair look. You can sport the chignon look for the red carpet and emphasize your looks with the halo-setting diamond earrings. Match the outfit to the surrounding colored gemstones of the earring, and no one can stop you from looking gorgeous. 
8. Chic pixie hair cut
The chic pixie haircut is stylish, and wearing your cuff diamond earrings highlights your looks. Layer your ears with studs if you have multiple piercings. It will add glamour to the whole look. Another option is to go with hoops and chandeliers when out at a party or wedding. Choose earrings with a solitaire at the center surrounded by colored gemstones in the chandelier style. Dazzle the night with your charisma and looks!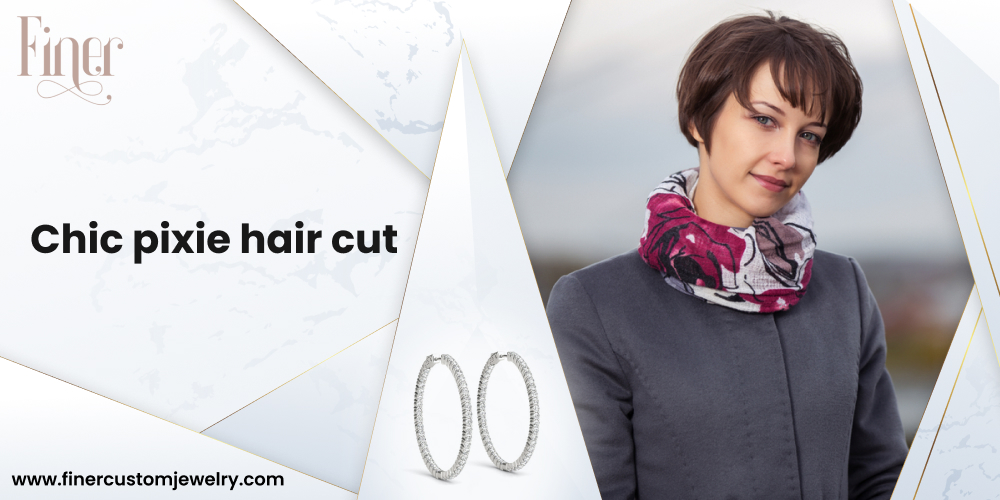 9. Modern shoulder length bobs
The minimalist diamond stud is the go-to style for modern shoulder-length bob hair. It perfectly complements your casual look. When going out on a date or a party, the cuffs or the drops transform you into a complete stunner. 
10. Versatile half-up and half-down
The half-up and half-down hairstyle is rocking the red carpet events and other outings. A pair of diamond studs is the best with this hairstyle. It will keep the look simple and make you look glamorous without making a lot of effort. If on a date, choose floral design patterns in your earring to flatter your partner.      
When planning to buy diamond Earrings In Houston, be clear about the hairstyle you adorn regularly. A perfect hairstyle can add charm and sparkle to your earrings. If you are confused about enhancing the look of your diamond earrings, ask experts at our Jewelry Store In Houston. We will help you find the perfect balance between your hairstyle and diamond earrings!