When it comes to a brides wedding day look, the jewelry she chooses plays a role in adding glamour and elegance.
In the year 2023, brides have a range of jewelry trends to explore, enabling them to express their unique style and individuality. From eye-catching statement earrings to layered necklaces, stacked rings, and hair accessories, Finer Custom Jewelry offers countless options for brides to curate their perfect bridal ensemble.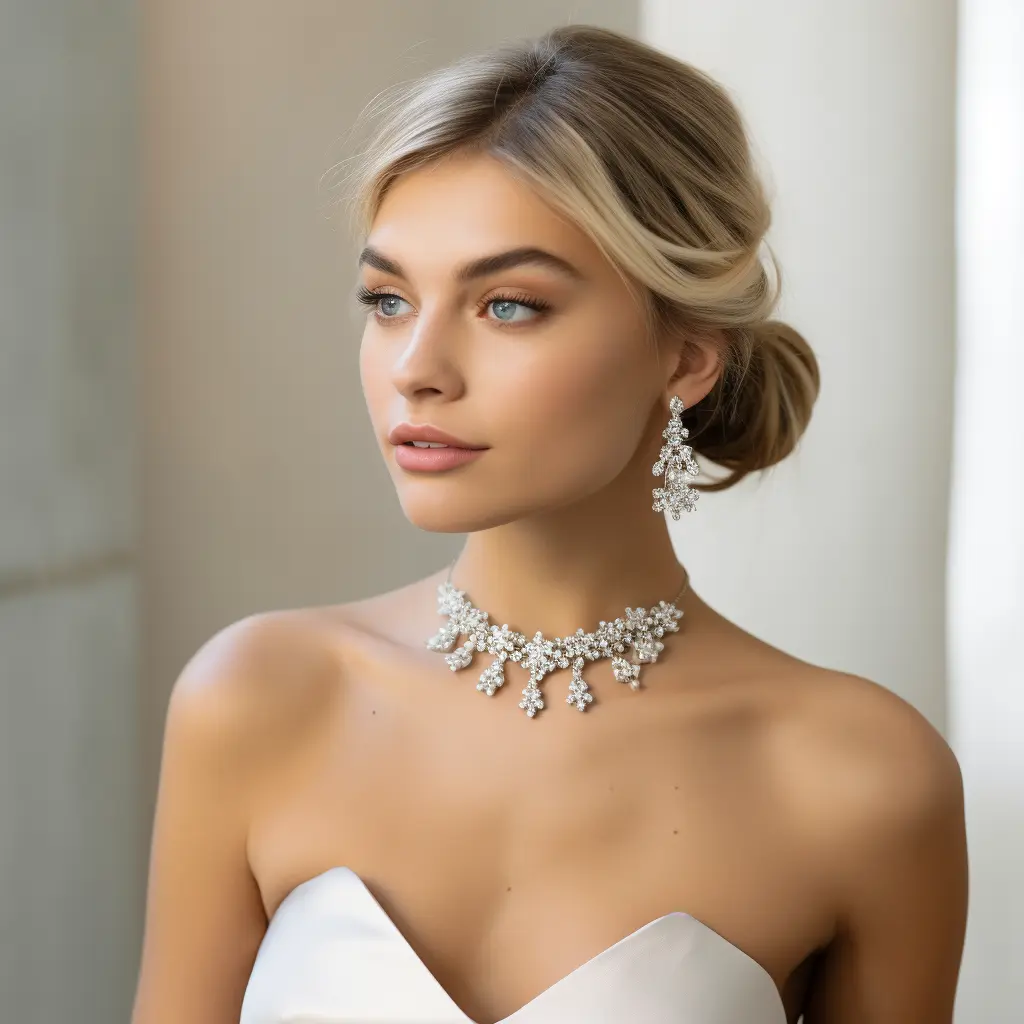 Statement Earrings
In 2023, statement earrings have gained popularity among brides. These earrings make a fashion statement and add a touch of drama to the overall bridal look. Oversized chandelier earrings are particularly trendy, as they effortlessly catch the eye and create a focal point. Geometric shapes like triangles or squares are also in vogue for brides who desire a contemporary appearance. For those seeking an impactful choice, statement studs with intricate designs prove to be an excellent option. The addition of embellishments such as crystals, pearls, or gemstones can further elevate the elegance of these earrings.
Layered Necklaces
Layered necklaces continue to be a trend for brides in 2023. This style allows brides to achieve a chic look by layering delicate necklaces of varying lengths and styles together. Incorporating different types of chains, pendants, and even personal charms or birthstones can add a special touch to the bridal ensemble. Whether you mix gold and silver or experiment with pendant styles, the possibilities are endless for creating a personalized and captivating look.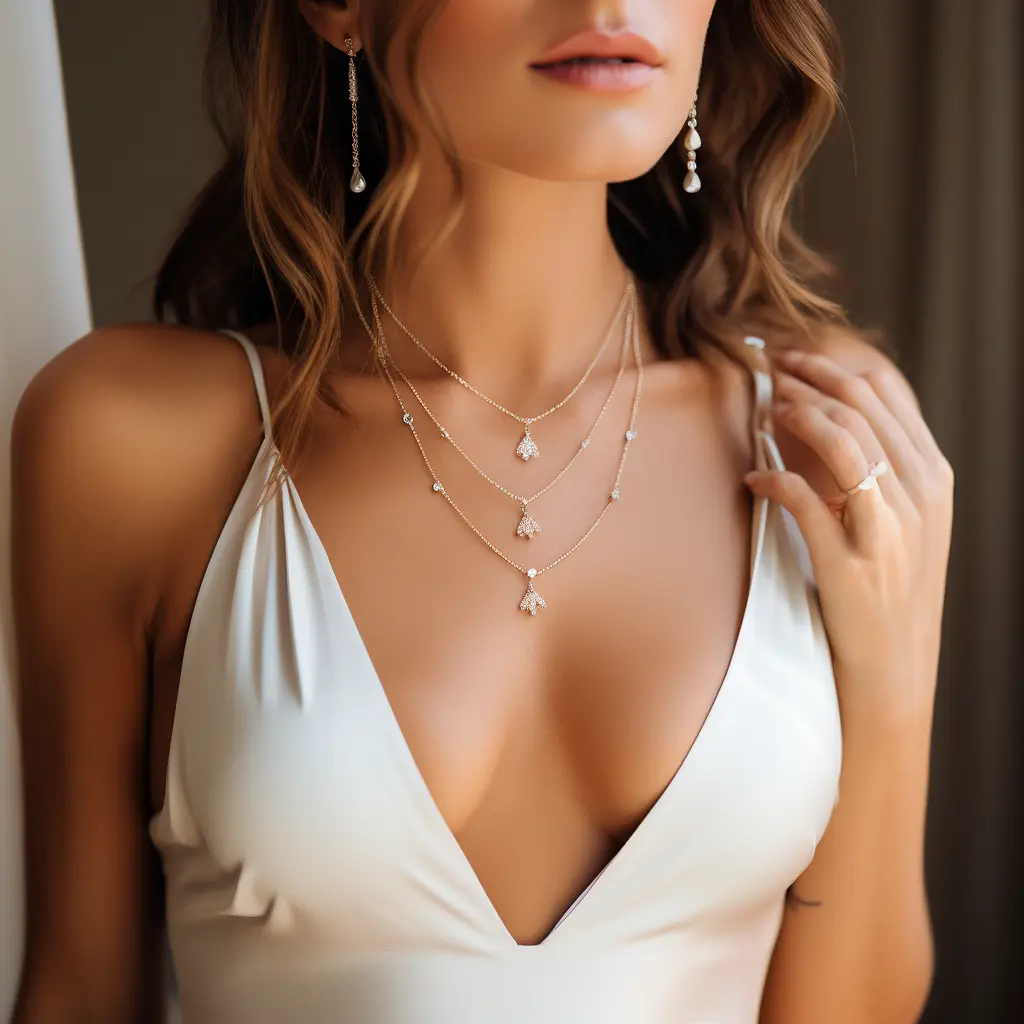 Stacking Rings
Stacking rings have become an accessory choice for brides in 2023. By combining metals and styles, brides can create a unique look that truly reflects their individuality. Opting for rings with gemstone colors is a creative way to introduce pops of color into the bridal ensemble. Additionally, wearing rings of varying widths can create an eye-catching effect. Brides might also consider adding a customized or engraved ring to commemorate this occasion, infusing sentimental value into their ring stack.
Hair Accessories
Hair accessories are another trend for brides in 2023, as they have the power to enhance hairstyles and add an extra touch of glamour. Delicate hair vines are particularly popular, as they can be intricately woven through updos or braided hairstyles to achieve an ethereal appearance. Floral crowns remain timeless options for outdoor or bohemian themed weddings. Statement headbands embellished with crystals or pearls can bring about an air of sophistication and elegance. Jeweled hairpins have become a choice for brides who want to add a touch of glamour and versatility to their hairstyles in a subtle yet impactful way.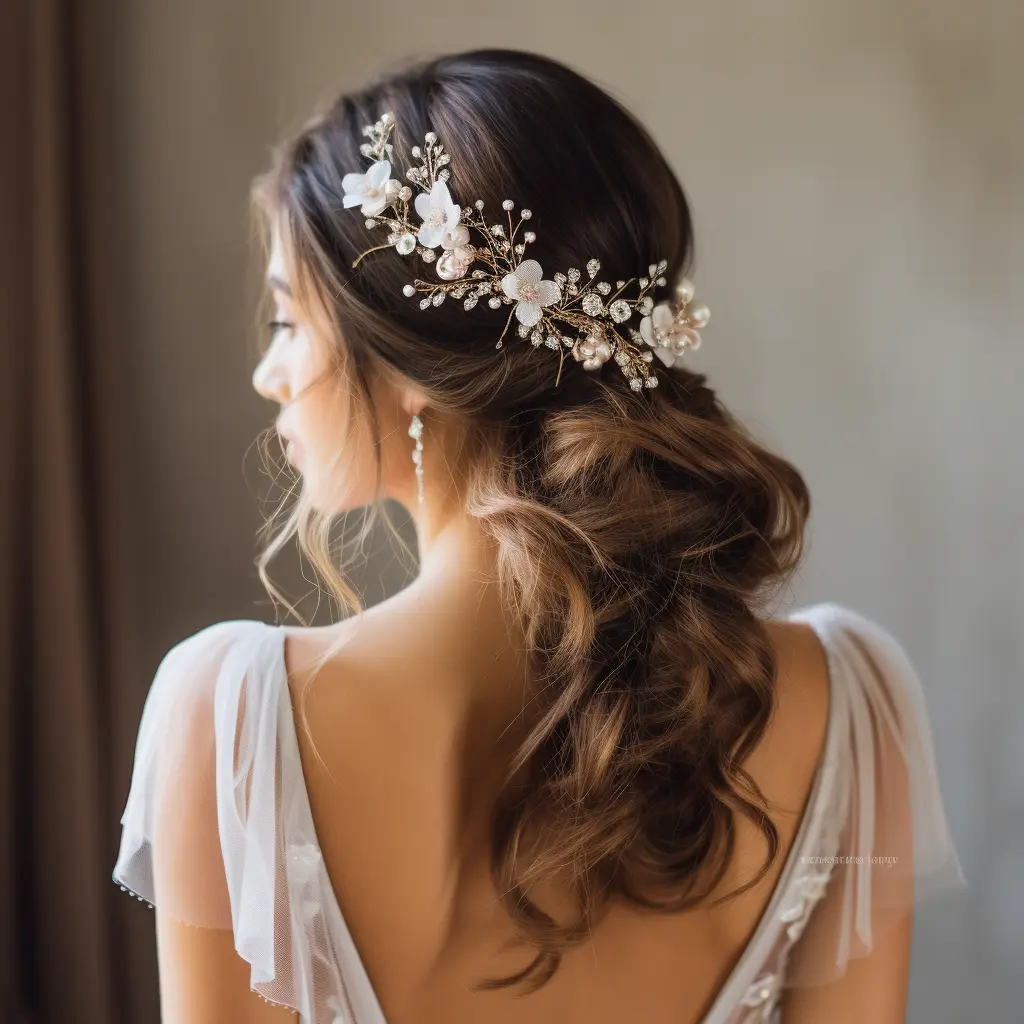 Gemstone Trends
When it comes to gemstone trends for wedding jewelry in 2023, brides have a range of unique options. While diamonds continue to be a timeless favorite, colored gemstones such as sapphires, emeralds, rubies, and even semi-precious stones like opals or tourmalines have gained popularity. These colored gemstones bring life and individuality to a bride's jewelry selection, making it truly special and reflective of her personal style.
Vintage and Heirloom Jewelry
In 2023, brides are also embracing the opportunity to incorporate vintage or heirloom jewelry into their wedding ensembles. Vintage-inspired jewelry is trending, as it allows brides to create a timeless look. Wearing an heirloom piece adds value and makes the wedding day even more meaningful. Finer Custom Jewelry presents a captivating collection of vintage-inspired pieces, ideal for brides seeking to infuse their look with a touch of history and sentiment.
Choosing Jewelry and Dress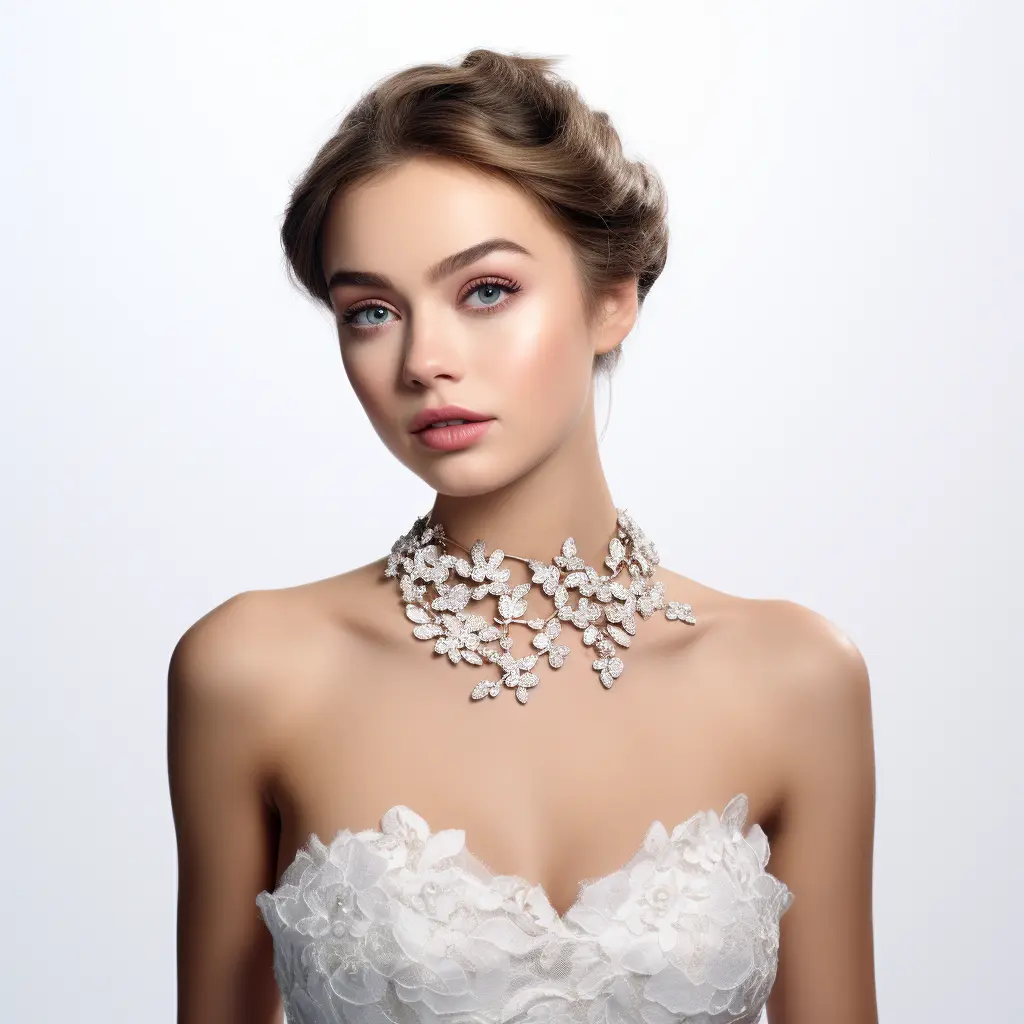 Although it is generally recommended to finalize jewelry choices after selecting the wedding dress, some brides may have a cherished piece of jewelry that holds immense sentimental value. In these instances, this jewelry can serve as inspiration for choosing the dress, ensuring a harmonious and complementary bridal appearance.
Bridal and Bridesmaid Jewelry
Regarding bridal and bridesmaid jewelry in 2023, while matching options are not obligatory, they remain a preference for many brides. Matching jewelry creates a pleasing visual effect and showcases unity among the group. However, blending jewelry styles that complement one another can also generate an intriguing and personalized look for the entire bridal party. The paramount aspect is for both the bride and her bridesmaids to feel confident, exuding beauty that reflects their style.
Conclusion
Conclusively, the trends in bridal jewelry for 2023 provide an array of possibilities to enhance each bride's beauty and individuality. From eye-catching earrings to necklaces, stacked rings, and exquisite hair accessories – there are limitless opportunities to craft the ideal ensemble for every bride's special day. To enhance their wedding day appearance and feel self-assured and stunning, brides can select exquisite jewelry pieces from Finer Custom Jewelry that exude glamour and elegance.