Choose the Perfect Wedding Band
When planning a wedding, the focus is often on the engagement ring. However, it's equally important to choose the right women's wedding band. Whether you want your band to complement your engagement ring or stand out on its own, finding one that represents your personality and commitment is essential.
Diamond Infinity Ring
One popular choice for a wedding band is the diamond infinity ring. This stunning piece features an endless loop of diamonds symbolizing everlasting love and eternity. It goes by many names, including eternal ring, eternity band, infinity ring, celebration ring, diamond wedding ring, and absolute diamond band.
Selecting the Metal for Your Wedding Band
When it comes to selecting the metal for your wedding band, there are several options to consider. A traditional metal band without gemstones is often made of silver or 18k/14k white, yellow, or rose gold. If you're interested in alternative metals, titanium and stainless steel are worth exploring. Platinum is the most popular choice for wedding bands because of its shine and ability to develop a beautiful patina over time.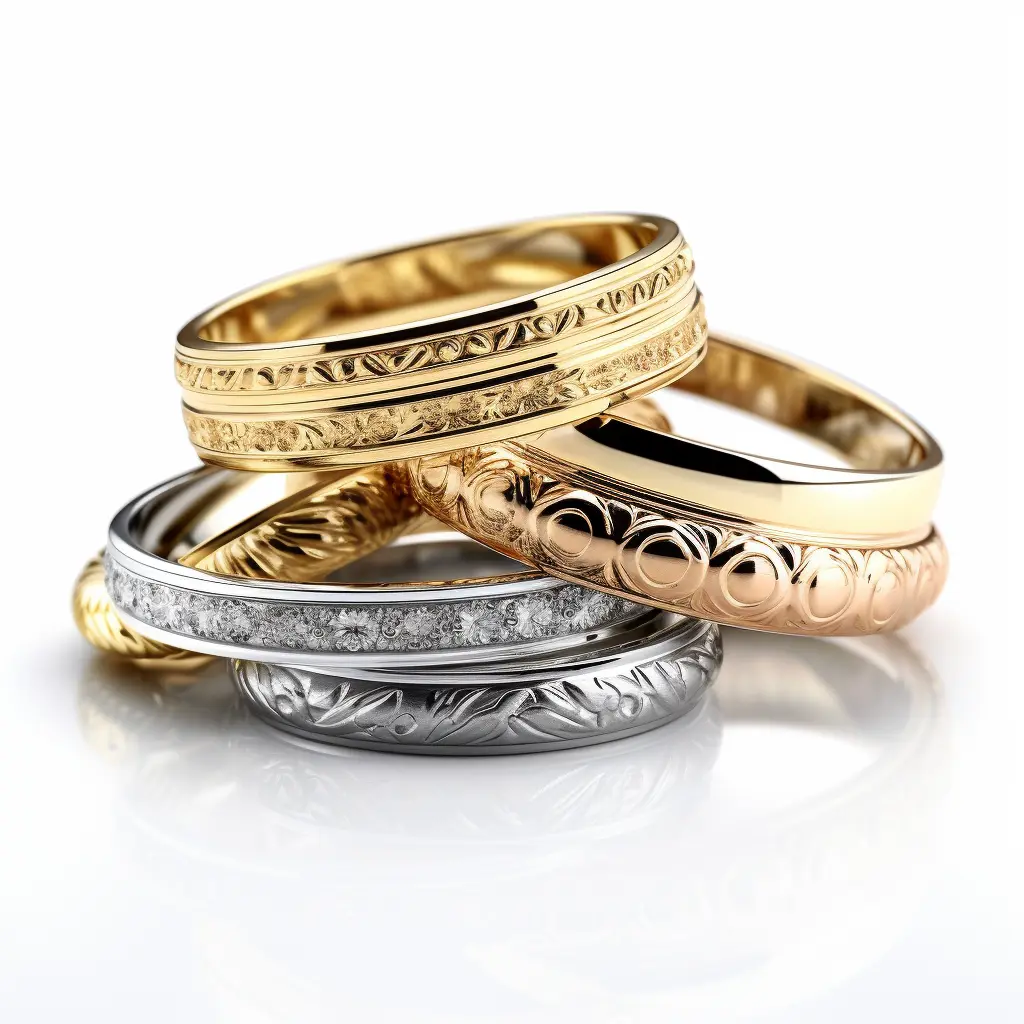 Choosing the Perfect Wedding Band
Choosing the perfect wedding band is no longer a straightforward process. While tradition once dictated that the ring should match the engagement ring, modern brides have more freedom to choose whatever they desire—regardless of whether it matches their engagement ring or not. The most important thing is finding a wedding band that you genuinely love and feel proud to wear every day.
Setting a Budget
Setting a budget for your wedding band is crucial, just as with any other aspect of wedding planning. While there may be some flexibility in certain areas, sticking to your budget ensures financial security and helps you prioritize your spending. Finer Custom Jewelry offers various options to suit different budgets so that you can find the perfect wedding band without straining your finances.
Long-Term Care
Finally, it's important to consider long-term care when selecting a wedding band. Taking proper care of your band will ensure it remains beautiful and in good condition for years to come. In antique wedding rings or other similar features, necessary maintenance might be required as time goes by. Nonetheless, at Finer Custom Jewelry, we would be honored to offer guidance regarding optimum care practices specific to your wedding band.
Consider Your Lifestyle
When choosing the ideal wedding band, it is important to factor in your lifestyle. It is easy to get carried away in the excitement of wearing a new engagement ring every day. However, various elements will impact when, where, and how you wear the band as life progresses. Therefore, factors such as durability, comfortability, and practicality should be taken into account before making a decision.
Style and Width
Additionally, the style should not be disregarded when selecting a wedding band. The width of the ring plays an essential role in this regard. Basic metal bands measuring 4mm for women and 6mm for men are extremely popular choices amongst individuals. In cases where one has a gemstone engagement ring, typically measuring 1.5mm wide is considered ideal for the wedding band. To visualize the width more accurately, US nickels can be used as points of reference – stacking three nickels will give you an estimation of how wide a 6mm wedding band actually is. At Finer Custom Jewelry, you can choose from an exquisite collection that includes delicate diamond infinity rings in white gold; these particular pieces are highly favored by many brides. For those seeking something with added romance, narrow carved rose gold wedding bands are also available to complete any traditional engagement ring. With our vast range of styles and materials to choose from, your search for that perfect wedding band most definitely ends at Finer Custom Jewelry. Never compromise on less than perfection when it comes to finding that ideal symbolization of eternal love which seamlessly complements your engagement ring while staying true to your individual personality – let us be your trusted guide.