The Evolution of Mens Jewelry
The world of mens jewelry has undergone a transformation in recent years. What was once a selection of traditional pieces has now expanded into a wide range of designs and styles. This change can be attributed to factors such as the evolving perception of masculinity, the influence of popular figures, and the recognition within the industry of untapped potential. In this article, we will delve into the changing trends and styles in mens jewelry and how Finer Custom Jewelry is leading the way in this fashion revolution.
Masculinity Redefined
In today's inclusive definition of masculinity, men are encouraged to express themselves through accessories in ways that were once considered unconventional. Gone are the days when minimalist watches and wedding bands were their only options – now they are embracing bracelets, necklaces, rings, cufflinks, and even earrings as essential elements of their everyday style. This shift has been fueled by celebrities and influencers who have made it trendy and desirable to sport a range of accessories.
Curated Collection
To meet this growing demand, Finer Custom Jewelry has curated a collection of mens jewelry that showcases both contemporary trends and timeless classics. Our collection features a balanced blend of elegant leather bracelets and intricately designed metal bands, showcasing a fusion of sophistication and modern style. With attention to detail and skilled craftsmanship, they offer a diverse range of options to cater to various tastes and preferences.
Bracelets for Every Style
Bracelets have gained popularity among men, offering a wide array of choices ranging from minimalist leather bands to elaborate designs adorned with precious metals and gemstones. Beaded bracelets and anchor bracelets are also highly sought after, effortlessly adding a touch to any outfit. At Finer Custom Jewelry, men can explore a selection of bracelet designs to discover the perfect piece that enhances their personal style.
Statement Rings
Rings hold significance in mens jewelry as well, presenting an array of options from classic wedding bands to striking statement rings that exude individuality. Signet rings have made a comeback in recent years, allowing men to personalize their jewelry with family crests or monograms, lending an air of sophistication to any ensemble. Finer Custom Jewelry understands the value of rings as accessories and offers a curated collection that showcases timeless elegance along with contemporary flair.
Meaningful Necklaces
Necklaces hold a place in the realm of mens jewelry as they provide an avenue for personal expression and storytelling. From chains embellished with meaningful pendants to bold chunky chains and dog tags, men can find necklaces that reflect their beliefs, values, and interests in every piece they wear. Men who are looking for accessories often choose cross necklaces and pendant necklaces with symbolic motifs. At Finer Custom Jewelry, men can find necklaces that reflect their style and make a strong fashion statement.
Embracing Individuality with Earrings
Throughout history, earrings have been a form of rebellion and self-expression for men. In today's fashion, stud earrings, hoop earrings, and multiple piercings are gaining popularity. At Finer Custom Jewelry, there is a selection of earrings available for men to embrace their individuality and confidently showcase their edgy side.
Elegance in Cufflinks
Cufflinks were traditionally associated with formal wear, but now serve as a medium of artistic expression for men. They allow individuals to add a touch to their formal attire. At Finer Custom Jewelry, there is an assortment of cufflink designs that combine elegance with contemporary artistry – for both formal occasions and stylish everyday outfits.
Materials for Every Style
When it comes to materials, Finer Custom Jewelry offers a range of options to suit various styles and preferences. Classic or modern designs crafted from metals like gold, silver, platinum, or titanium ensure lasting durability and timeless charm. Leather has also gained popularity in mens bracelets, due to its casual aesthetic – adding a sense of adventure and free-spiritedness. Stainless steel, known for its lasting quality and affordability, is a popular choice for mens bracelets, necklaces, and rings. It provides a modern appearance. Adding gemstones like diamonds, onyx, or black spinel brings an element of luxury and sophistication to mens jewelry, making it truly exceptional. Moreover, wood has gained popularity as a material option for bracelets and necklaces due to its earthy beauty.
Style Tips for Men
To effortlessly incorporate jewelry into style, men can follow some simple guidelines. Starting with pieces like a discreet bracelet or necklace is an excellent way to ease into the world of mens jewelry. Gradually exploring statement-making accessories allows them to find pieces that truly resonate with their personal style. Coordinating the jewelry with clothing is essential to ensure it complements the look without overpowering it. When selecting jewelry, considering style and preferences is vital. Whether opting for a minimalist aesthetic or bolder choices, men should choose pieces that reflect their individuality. Mixing and matching jewelry items can add visual interest and complexity to any outfit while creating a unique and personalized style.
Trends in Mens Jewelry
As mens jewelry continues to evolve, certain trends are emerging that capture the essence of fashion. The demand for ethical jewelry among men is on the rise. They are increasingly interested in pieces that are crafted from recycled metals, feature fair trade gemstones, and incorporate eco-friendly materials. Another emerging trend is personalized jewelry, which allows men to add a touch to their accessories through engravings of initials, birthstones, or custom designs. Statement signet rings have also made a comeback, with men embracing designs and engraving meaningful symbols or monograms on them. Layering accessories like bracelets and necklaces continues to gain popularity as it adds depth, texture, and showcases personal style versatility. Lastly, mixing metals has become increasingly popular among men who want to experiment with combining gold and silver or incorporating rose accents to create a more flexible look that complements various outfits.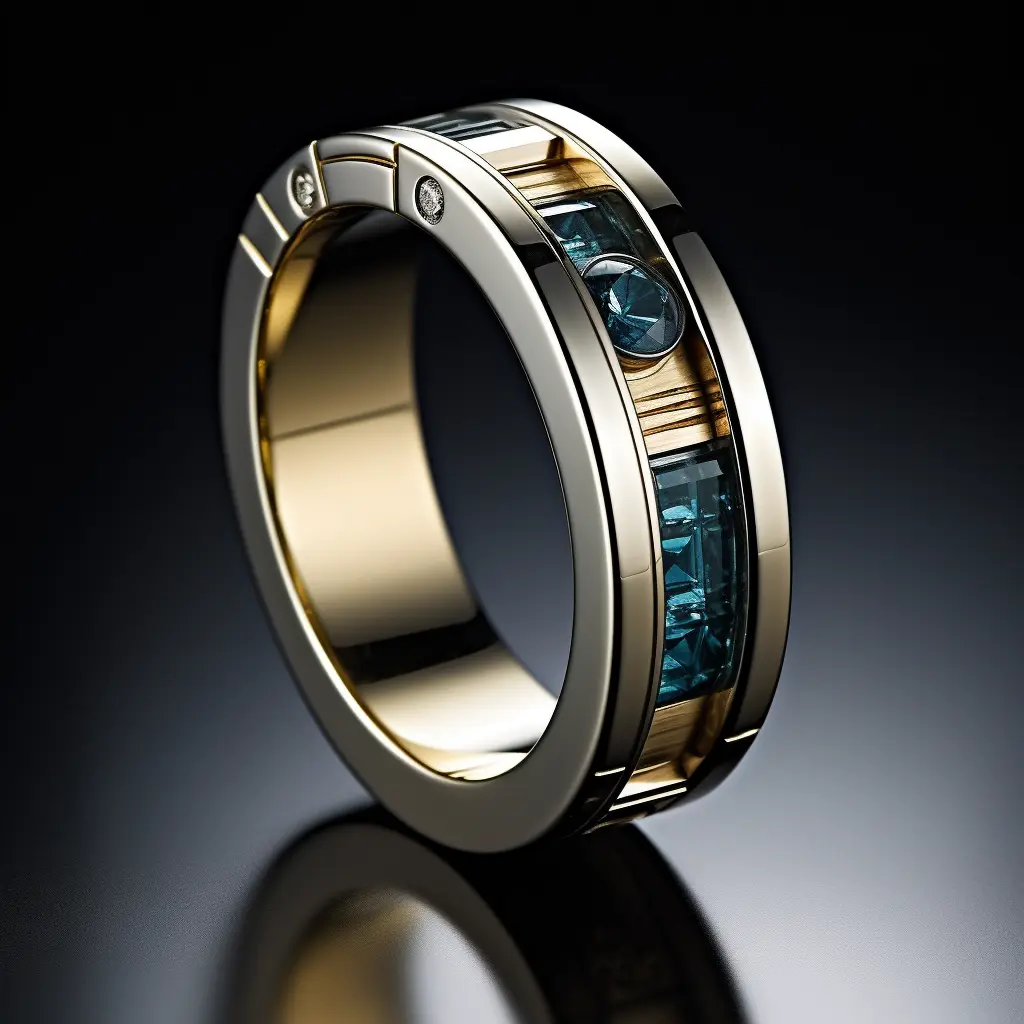 About Finer Custom Jewelry
At Finer Custom Jewelry, we are dedicated to staying up to date with the evolving trends in mens jewelry. Our curated collections epitomize sophistication, craftsmanship, and contemporary style. By offering a range of materials, designs, and styles in our selection, we ensure that men can find jewelry that truly reflects their individuality while elevating their personal style. With our commitment to delivering quality products and ensuring customer satisfaction, Finer Custom Jewelry has become the go-to destination for fashion-forward men who want to make a statement through their accessories and embrace the power of jewelry.
In Conclusion
In conclusion, the world of mens jewelry has undergone a transformation fueled by shifting perceptions of masculinity, the influence of celebrities and influencers, and the changing demands of the market. A key player in this revolution is Finer Custom Jewelry, which offers a range of mens jewelry that perfectly embodies contemporary fashion. With their designs, meticulous attention to detail, and unwavering commitment to quality, they empower men to showcase their individuality through accessories and enhance their everyday style. From bracelets to striking rings and meaningful pendant necklaces, Finer Custom Jewelry epitomizes the idea that mens jewelry is no longer an afterthought but rather an integral part of modern mens fashion.