How To Choose Bridal Jewelry In 2021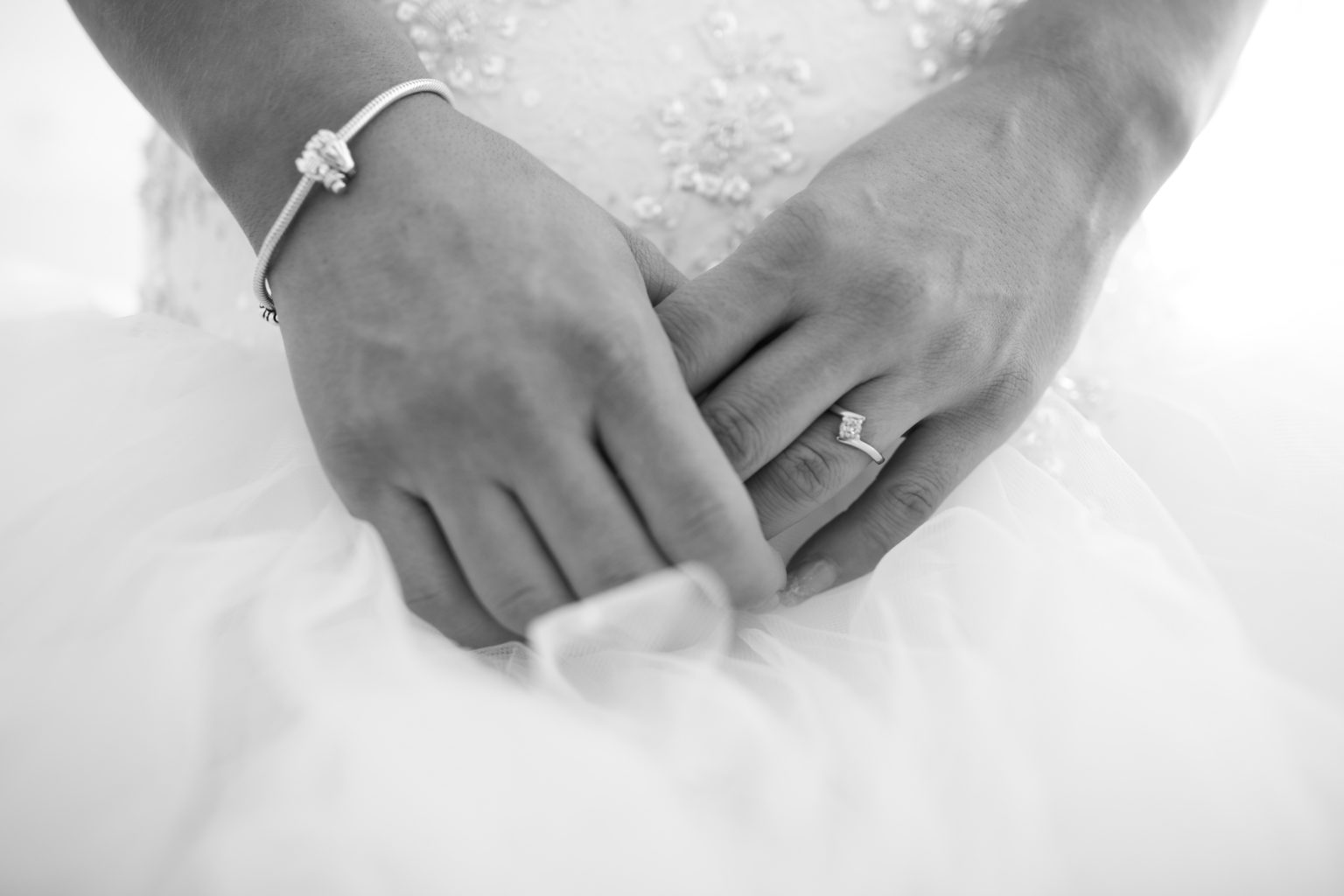 So you've finally made one of your biggest wedding decisions—choosing your dress. Congratulations! The next step is to pick the perfect accessories to bring out the beauty of your gown—and also the beauty of the bride herself.
Learn more about how to pick the best bridal jewelry for your big day to make you feel stunning and sophisticated as you walk down the aisle.
Match your jewelry to your dress.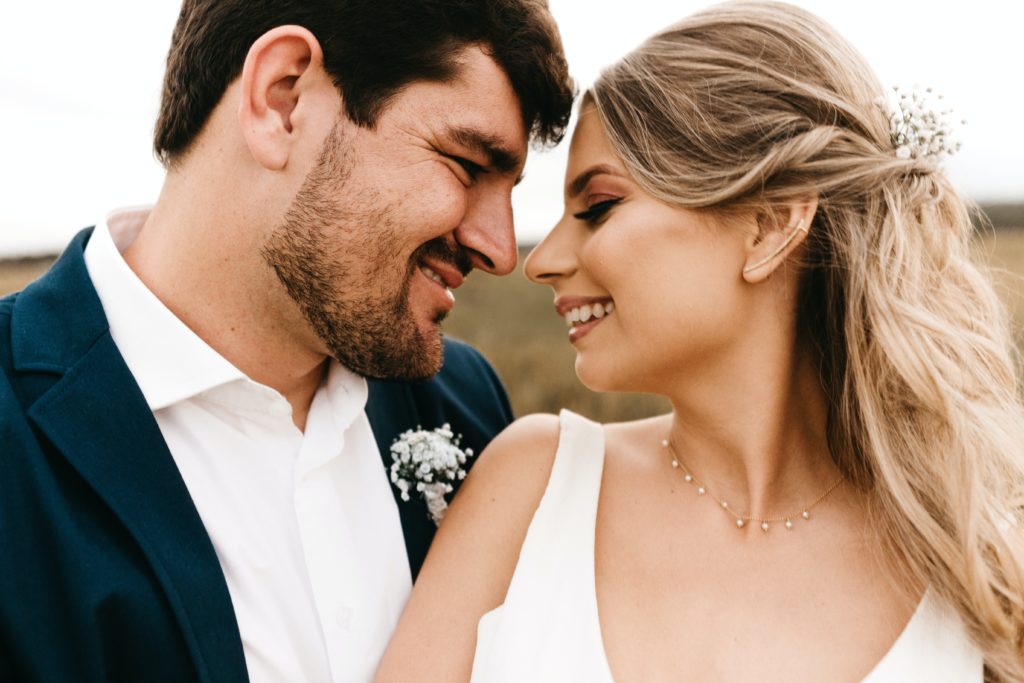 Even though most wedding dresses are white, there is still a lot of variation between the shades. From true white to ivory to blush, wedding dresses come in more hues than you could imagine. Depending on the exact color of white you choose, different jewelry will best complement your dress.
For shades of white with blue undertones, opt for jewelry that is crafted from lighter metal like white gold or platinum. This will bring out the cool shades of the fabric and enhance the beauty of your gown. Gold jewelry is best for ivory dresses. The creamy, warm undertones of ivory pair perfectly with gold jewelry for a classic and timeless look. For dresses with a blush tint, try rose gold jewelry to enhance the rosy tones of the fabric. 
Be thoughtful of your neckline.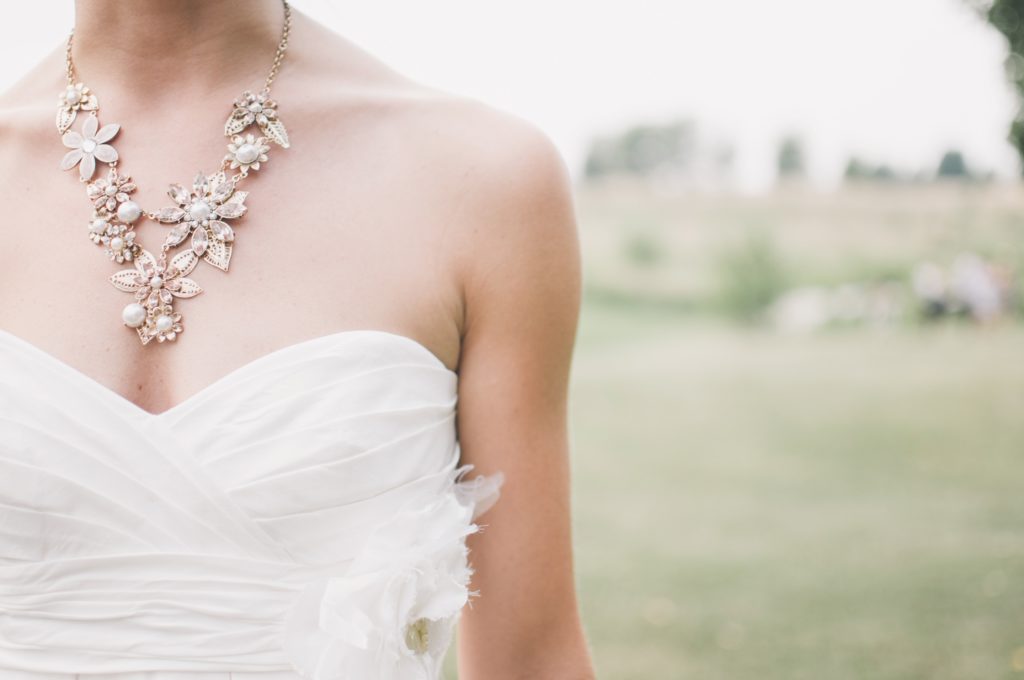 Choose your accessories carefully to perfectly complement the neckline of your wedding dress. The right combination of necklace and earrings will help frame your face and bring out your natural beauty.
If you are wearing a strapless dress, opt for statement-making earrings. Leaving your neck and décolletage bare draws all of the attention to your face and emphasizes the striking details of your dress, while also highlighting your natural radiance. If you go this route, consider also wearing your hair in an updo to let the jewelry really shine. Strapless dresses are also well-suited for collar-length or choker necklaces. Select a simple style that doesn't compete with your dress—an understated diamond or pearl design is a great option to add a hint of sparkle without stealing the show.
Like strapless dresses, high-necklines are the perfect opportunity for earrings. The high-neck style elegantly frames the face, making earrings the perfect finishing touch. Consider a simple, stud style for a demur look, or choose a pair of drop earrings to make a louder statement.
A V-neck dress, on the other hand, is the perfect blank canvas for a necklace to add a special finishing touch to your bridal ensemble. The necklace you choose often depends on the level of embellishment on your dress. For dresses with beading or embroidery, for example, go for a delicate and understated design that will play up the details of your statement-making dress. For dresses that are more simple and sophisticated, add a necklace—or layer a few different necklaces—to showcase your personal style and add a touch of sparkle.
Stay true to your personal style.
It's important to pick jewelry for your big day that feels natural to you. If your style is simple and classic, channel that same aesthetic in the jewelry you choose. If you are more fashion-forward or gravitate towards sparkle, incorporate those elements into your bridal style. The most important part of your wedding day is making sure that you're comfortable and feel like yourself! Above all else, it's essential for you to feel beautiful, confident, and happy.
Keep it simple.
When it comes to bridal jewelry, don't overdo it. The purpose of jewelry on your wedding day is to enhance and complement your natural beauty—not to outshine you. Pick a few pieces that you love and try not to over-accessorize. After all, your wedding day is about you and your partner, so don't let your jewelry steal the show.
If you can't find the perfect piece, design your own.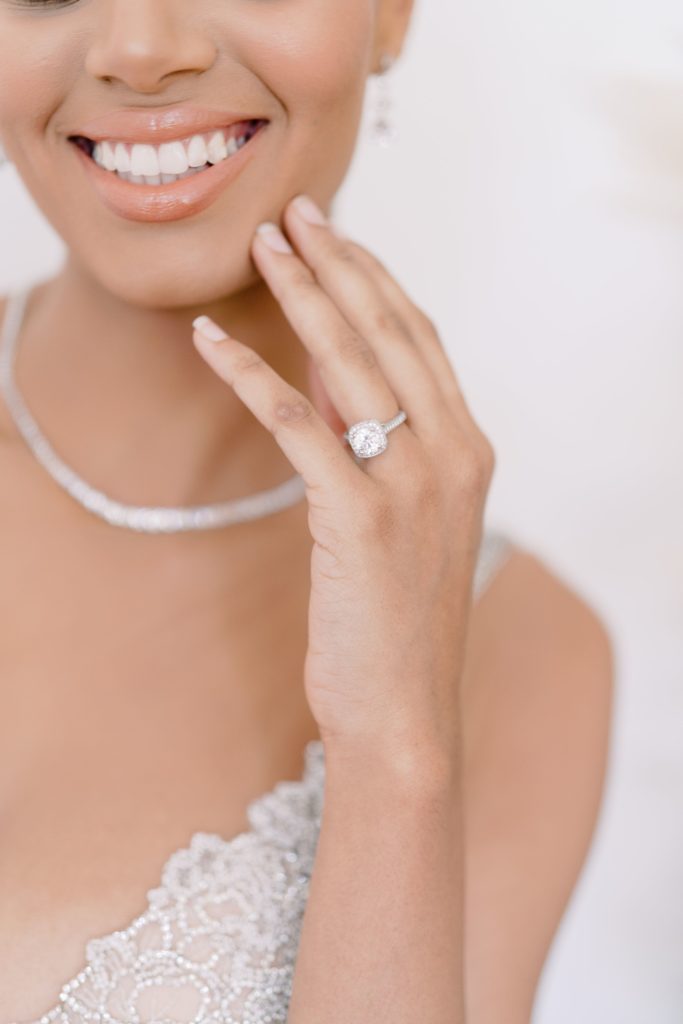 Don't fret if you can't find the piece of jewelry you've been envisioning with your dress. You always have the option to design a custom creation that is specially tailored to complement your wedding gown. Whether you're looking for a simple pendant or a pair of statement-making chandelier earrings, Finer Jewelry can make your bridal jewelry dreams a reality.
With three decades of experience in fine jewelry, the expert team has a wealth of knowledge. From designing custom engagement rings to everyday accessories to special occasion pieces like bridal jewelry, they put their customers first to help bring their vision to life. Work with the design team to choose every detail, from the metal to the gemstones to the size so that you have a hand in every detail and finishing touch.
Get in touch and get started on the perfect pieces for your big day.