How To Choose The Right Jewelry For Your Outfit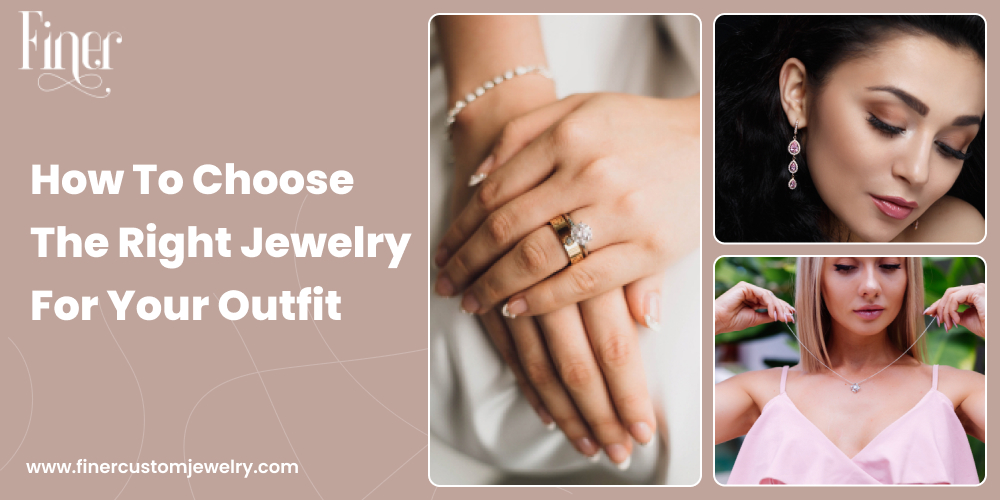 Isn't it frustrating, first seeking the right dress, then searching for the right jewelry to match it? What if we give some tips on matching jewelry with your outfit. It'll be amazing, right?
It's pleasant to have options, but having too many may make dressing a chore. Don't assume for a second that you're alone if this sounds similar. Every week if not every day, women worldwide find themselves in this position!
Women, on average, spend 90 minutes each week in their wardrobes deciding what to wear.
Because jewelry is an essential part of any outfit, why not choose wisely while accessorizing? Custom jewelry according to your dress will be a better option too. Here's how to get the most out of your jewelry:
Dress For The Occasion
Appropriate dress for the occasion is a big thing. Overdressing might be a fuss, and you don't want to be a center of attraction for the wrong reasons. Your workwear jewelry and party wear jewelry should be different.
Workwear
Workwear jewelry should be modest and straightforward. Well, it depends on where you work, if it is a school, a pair of earrings might be subtle-Office, then a necklace according to your dress will be better. If it is a hospital or any other setting, wear jewelry according to your dress. A small pendant necklace, a tennis bracelet, stud earrings are all accurate for workwear jewelry.
Party Wear
This is usually a smart-casual or dressy-casual event. Almost everything goes, but don't show up drenched in diamonds prepared for a special occasion at the table. This is a perfect time to wear those long dangle earrings you've been eyeing, stack on a few rings, some chunky bangles, or wear a layered necklace. Bring out a little more attention to you (in a good way, of course). Enjoy your day.

Jewelry That Compliments Your Skin Tone
Silver is the metal that frequently glows every skin tone. Gold generally goes well with darker hair and pale or warm skin.
Choose metal and stones wisely. It should not only reflect your personality but should also match your outfit and skin tone.
Red, purple, and blue gems blend nicely with ivory complexion tones. White gold is also an excellent alternative for people with ivory complexion tones. Yellow, orange, green gemstones, and yellow metals, go well with more glowing warm skin tones.
Consider Your Neckline
Choosing a necklace and other accessories is necessary according to your neckline. Your entire attire becomes imbalanced if your necklace and neckline are not coordinating. To avoid being lost in the chaos, make sure the length of your necklace is considerably shorter or longer than your neckline.
A choker necklace or a short-chain will look incredible on the V neckline. Long necklaces or layered necklaces will be the best for turtlenecks. If you wear a halter top or one-shoulder dress, skip wearing a necklace and show off your statement earrings.
Diamonds
Level up your jewelry style with diamonds. Since they were first discovered thousands of years ago they have been set in jewelry.
One of the main reasons behind diamonds being popular is they go with almost everything.
Don't know how to match your jewelry to your outfit? Choose a pair of earrings having diamonds or a pendant having diamonds, or anything with diamonds.
Gold, Black, & White
Make sure to pair plain and traditional apparel with black or gold jewelry, which are both basic yet powerful statements in and of themselves. Bright gold jewelry or onyx gemstones will look great with that beautiful little black party dress.
Gold will add to the beauty of both white and black colors, so do not forget to incorporate them.
Conclusion
We hope that the above-mentioned tips on how to choose the perfect jewelry to match your outfit have been helpful to you. And it comes in handy the next time you're looking for that flawlessly balanced and matched appearance. Whether it is for some glam night or chic casual, every outfit needs a piece of jewelry; choose it wisely.