The Ultimate Guide to Women's Wedding Bands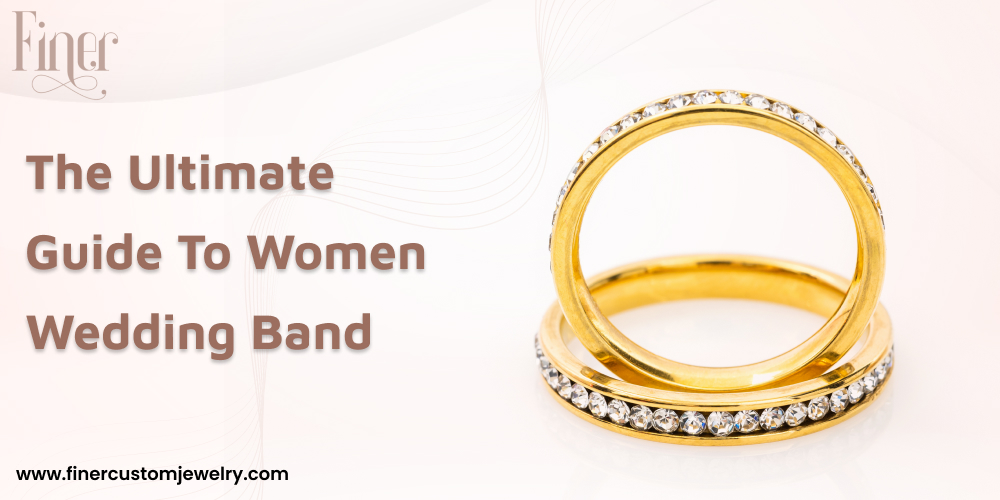 Although the bling on the engagement ring normally takes center stage, choosing the right women's wedding band is just as crucial. Depending on your tastes, your band may either complement your current sparkle or stand on its own.
Your engagement ring is a gleaming representation of your wedding vows. It becomes a part of you and you will be wearing it every day for the rest of your life. The best wedding ring complements your engagement ring and reflects your personality as well as your devotion, whether it's a plain gold band or an infinite circle of diamonds. Should you have an infinity band? Or maybe a shadow band?
The most expensive wedding band is a diamond infinity ring, which is an everlasting loop of diamonds around your finger. The diamond infinity ring is a dazzling celebration of eternity, representing unending love. This diamond circle has many names: eternal ring, eternity band, infinity ring, celebration ring, diamond wedding ring, and absolute diamond band.
Metal
A traditional metal band with no gemstones is usually made of silver, 18k, 14k white, yellow, or rose gold. Titanium and stainless steel are examples of alternative metals. "Platinum is the most common metal in this style," Not only is it the shiniest gold, but it also produces a lovely patina with age, which, if desired, can be buffed away to its initial shine without rubbing down the metal."
Choose the Right
Purchasing a wedding ring used to be a very straightforward operation. What you had to do was buy the matching ring and you were set. Old-fashioned customs, on the other hand, have fallen by the wayside, and brides are free to pick whatever ring they want, regardless of whether it suits or not.
This is particularly important when it comes to the wedding band. After all, your wedding band is a symbolic ring that you will wear every day…FOR THE REST OF YOUR LIFE… Make sure you enjoy the ring on your finger as you look down at your hand.
It's important to note that this wedding will be over before you know it, and you want your lifelong friendships and family ties to remain intact. These people adore you, and you adore them in return. If these diplomatic phrases don't fit, I've found that assigning them a role is a perfect way to respect their love for your wedding while removing any of the stuff from your to-do list.
Budget
You must set a budget and adhere to it, much as every other aspect of wedding planning. Sure, there will always be some wiggle room and areas where you can transfer your capital, but you can always stay within your budget. This will not only secure your financial security but will also help you to reflect and prioritize.

Consider Long Term Care
Many wedding band features can necessitate more long-term maintenance than others. This is particularly true for antique wedding rings. Although their antique features are beautiful and the romance of the ring's history is enticing, the fact is that you are purchasing used jewelry. Antique wedding rings have also been subjected to a lifetime of wear and tear, including sizing, shank thinning, and prong thinning.
Consider your Lifestyle
The most common mistake brides make while shopping for wedding bands is failing to understand their lifestyle. Typically, the procurement process concludes and begins with the same overarching shopping criteria: does it look nice with my engagement ring? Sure, while your engagement ring is sparkling and fresh, it's difficult to consider not wearing it every day. However, life is a long journey, and several aspects will come into play that will influence how, where, and when you will wear your engagement ring. So, choose accordingly.
Another critical style factor to remember is the ring's width. Women's 4mm and men's 6mm are the most popular widths for basic metal bands. Wedding bands that match a gemstone engagement ring are usually 1.5mm wide. Using US nickels is a simple way to get a sense of ring diameter. One US nickel is 2mm thick, so stack three nickels to get an accurate picture of how wide a 6mm wedding band would be.
A delicate diamond infinity ring in white gold is the favorite wedding band. The most common type of setting is one that suits the band of the engagement ring. A narrow carved rose gold wedding band is also common. It brings a romantic touch to a traditional engagement ring. Your search for the perfect wedding band will end at Finer Jewelry.