When You Should Consider Custom Jewelry Design
Not a big fan of jewelry trends? Want something unique for a special someone? Then, you may appreciate a design that's only used once. For you or your loved one.
Custom jewelry is so much more than simply customizing a piece of jewelry with an engraving. You design and build a whole new piece of jewelry with your designer.
WHY SHOULD YOU CHOOSE CUSTOM JEWELRY?
Choosing custom jewelry is the highest expression of adoration for your beloved (yes, that can and should also be yourself) and their adornment to highlight just how special they are. So, what are the main factors in considering custom jewelry?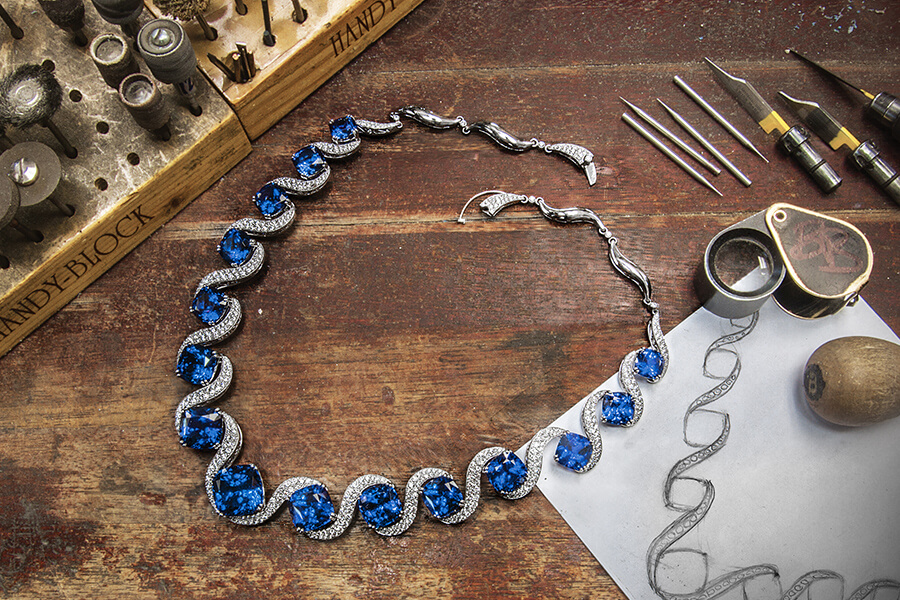 INDIVIDUALITY:
There's only one you. There's no one like the one you treasure, and factory-made engagement rings do not tell your story properly. So, curate a one-of-a-kind piece with its own story, rather than mass-produced piece.
VALUE:
What's value to you? Quantity or quality? A custom piece of jewelry can be expensive, but it can be also affordable with the added value of being completely unique.
APPEAL:
Never settle for quality, and besides, the appeal is in the details. Each nook and cranny are created with care and thought about your specific design. You control the vision.
HOW DO YOU DESIGN A CUSTOM JEWELRY PIECE?
What goes into designing a custom jewelry piece? From details to revisions and securing the warranty, here's what you need to know about bringing your custom jewelry design to life.
1. HIGHLIGHT THE DETAILS
Have an artist sketch out your design. Include larger sketches of the unique, small features so the jeweler can really take in the details to create the piece to perfection. Mark on the drawing the materials you want utilized in the design. Is it gold or titanium, consisting of diamonds or colored gemstones?
2. MEET THE JEWELER
Review photos of each jeweler's portfolio of past custom jewelry pieces and check out customer feedback before settling on your jeweler. Do the final pieces look secure and comfortable to wear? Go over your sketch with the jeweler, and allow them to refine by hand or via software to create a perfect design. The jeweler's revisions ensure that your piece will be stable and wearable. Go over the details of the process and get an estimate of the cost.
3. GIVE THE FINAL APPROVAL
Check on revisions until you are ready to give your final approval. You will take a look at the CAD software drawings or a wax model created by the jeweler showcasing the different angles of the final design. Be sure you are happy with everything before you approve the final design for production.
4. KEEP UP WITH THE BUSINESS ASPECT
It's understandable to get caught up in the emotion of designing and waiting for a custom jewelry piece. However, keep up with the business aspect. Get every detail down in writing: your respective responsibilities, the elements of the design, an appraisal noting that the piece is a custom design and notes you as the designer. Secure the warranty. Finally, know that it may take a few weeks or a few months for your custom jewelry to arrive than if purchasing it out of the showcase at the jeweler's. The materials must be ordered by individual piece, and the model and the final piece have to be produced.
Forget the trends and trailblaze your own path by designing custom jewelry of your own. Now, you're probably wondering where the best place is to buy custom jewelry.
Schedule an appointment and stop by Finer Custom Jewelry on your Scottsdale jewelry search and we'll make your vision come to life.