7 Best Mother's Day Gifts In 2021
Mother's Day is the best time of year to recognize and acknowledge all the hard work, dedication, and love that mothers give throughout the years. For moms who have been there through everything, there's no better way to say "thank you" than with a thoughtful gift. And one of the most memorable gifts is a piece of customized jewelry from the heart. 
We've rounded up the best mother's day gifts for 2021 for the woman who means the most. 
1. Meaningful Message Pendant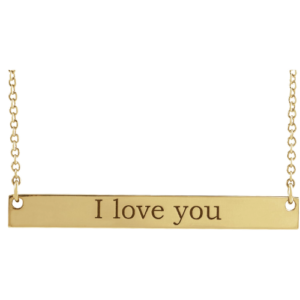 Tell mom exactly how you feel, without saying a word. A simple and timeless engraved pendant is one of the best ways to express your love. A phrase that means the world, like "I love you" will show mom how much you care, while also adding a striking piece to her jewelry collection. This pendant will add a striking finishing touch to her daily ensemble while also reminding her of the beautiful bond you share. 
2. Simple, Stackable Rings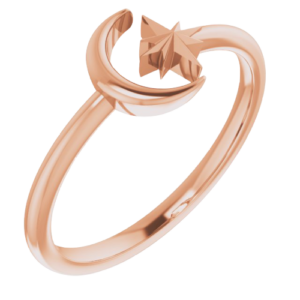 For mothers with a more understated style, there's nothing like a simple ring to add to her set. With clean lines and interesting design details, a ring is a perfect gift that she can wear every day. To make it even more special, choose a ring that will stand out. A warm, rose-gold tone sets this ring apart from most other everyday jewelry, which is often a yellow- or white-gold shade. Choose a design that is distinct and special, like a timeless star and moon motif, to show her how much she really means.
3. Sparkling Statement Pendant
Give mom the chance to add a little sparkle to her everyday wear with a delicate and distinguished pendant. Sparkling with diamonds and on a delicate chain, this pendant lets her show off her personality and style in a subtle and sophisticated way. A crescent moon motif is a simple and timeless design—and diamonds sparkle like stars along the curved edge, adding unparalleled modernity and elegance to this stunning piece—and making it a pendant that any mother would treasure and love to wear. 
4. Elegant Everyday Earrings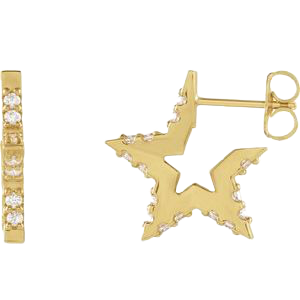 Earrings are the ideal way to accessorize any outfit—which means when they're given as a gift, they'll get a lot of wear. A great option for Mother's Day are earrings that are simple but make a statement. Opt for something with a little sparkle to catch the light and play up her beauty, like this pair of star-shaped huggie hoops. They are a unique combination of all of these elements to make mom feel special every time she wears them. 
5. Engraved Diamond Pendant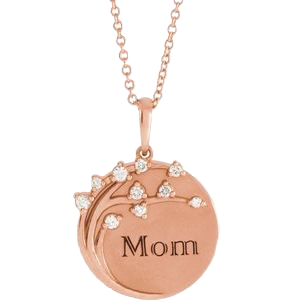 Diamonds sparkle and shine in this engraved pendant, making it a beautiful combination of styles that are perfect for any mother.  This circular style features diamonds sprinkled around the edge to offset an abstract and elegant tree motif. The white diamonds shine brightly in contrast with the warm rose gold metal, creating an equally modern and timeless combination.  As a finishing touch, the word "Mom" is expertly engraved in the middle to remind her of your unwavering love.
6. Personalized Name Necklace
"Mommy" is one of the most special and meaningful titles that any mother will ever have. Remind her of that beautiful relationship between mother and child with an elegant necklace. A flowing script font creates smooth lines and shapes that elevates this necklace from ordinary to extraordinary. Timeless yellow gold shines in the light and will withstand the test of time, making this necklace an even more remarkable design.
7. Beautiful Bar Pendant
The ties between family are some of the strongest. Give mom a constant reminder of those bonds with this thoughtful gift. A clean and sleek bar pendant is the perfect accessory for every day, thanks to the simplicity and craftsmanship. To differentiate this pendant from the rest, "Family is forever" is engraved across the rose gold design to serve as a constant reminder of the love you share. This elegant design is one mom is sure to never forget.

THE PERFECT MOTHER'S DAY GIFT FROM FINER JEWELRY
If you're still looking for just the right thing for Mother's Day or can't find exactly what you've imagined, Finer Custom Jewelry can help. As a leader in custom jewelry design and engagement rings, Finer Custom Jewelry can bring your vision for mom to life. Whether you're looking for a ready-made design, one with a special engraving to add a personalized touch, or a completely custom creation, we will help you make your vision a reality.